Case Study: Northern Tool
As a multi-channel retailer of high quality tool and equipment products, Northern Tool has more than 14,000 products to sell. They are also in the top 100 catalogers in the US by revenue according to Catalog Age.
Problem:
Northern Tool recognized that very few of their products could be found via search engines. The company's website was not compatible with search engine spiders and the site's dynamic pages weren't indexed by Google. "This basic inability to reach one of the largest online buckets of customers at Google, had frustrated us for years," says Nathan Miller, eCommerce Manager at Northern.
Though the website offered over 14,000 products, potential customers could only find a few of them in search engines – a big problem, given consumers' increasing reliance on search engines to find products they need. The company believed their site's lack of search engine visibility was costing $100,000 – $250,000 per month in missed sales.
Northern Tool.com's goal was to increase non-branded keyword sales, brand awareness, and acquire new customers by optimizing their website for Google. They wanted to expose their product catalog to the thousands of people using Google to find tools and equipment every day.
They wanted to act quickly and leverage end-of-year search traffic increases. However, their imminent holiday "code freeze" limited our options. Within a few short weeks we would be unable to affect changes to their website. Furthermore Northern Tool's IT staff were extremely busy and unable to devote any significant time towards an URL rewriting project or other server-side solutions.
Solution:
Northern Tool.com turned to Netconcepts to optimize the website architecture for natural Google listings.
Given the timing issues of an imminent holiday code lockdown at Northern Tool, Netconcepts' proxy-serving solution, gravityStream, was selected as the path forward, rather than implementing changes onto Northern Tool's main web server.
GravityStream's data-matching scripts enabled Googlebot and other search engine spiders to retrieve the site's product content without significant changes to the website. Search engine users access the exact same page that they would if they clicked into the page from within the Northern Tool site and the page was generated for them – the pages are dynamic, remember. But gravityStream offers the page in a search-engine-friendly static form. You could call it re-presenting all product pages as landing pages.
So gravityStream turns Northern Tool's dynamic product pages into search engine friendly landing pages and customer acquisition engines. Millions of search engine users are now exposed to the Northern Tool brand and product range every day.
And gaining this level of visibility was easy. Implementing gravityStream required only a few hours of Northern Tool's time. "We just set up a sub-domain, added a link to our home page, and then waited for Google," says Nathan.
Results:
Within eight weeks of launching gravityStream, 100% of NorthernTool.com's product catalog had been spidered and included in Google's index – over 14,000 products, many with great rankings. When searching Google for Northern Tool's 600 category and sub-category pages:
32% are ranked at #1.
71% are listed on the first page.
77% are listed within the first two pages.
More importantly, NorthernTool.com has experienced tremendous gains in traffic and sales. GravityStream is now delivering 15% – 20% of total site-wide traffic. The first month of sales was in the 6 figures. GravityStream accounts for greater than 5% of total online sales. Approximately 80% of these orders generated were "new-to-file" – a critical metric to catalogers, as it is a measure of the degree of cannibalization there was of their other channels, most notably the print catalog.
Nathan Miller and his management team can see the bottom line value of the natural search visibility gravityStream offers: "With Netconcepts' help we will continue to optimize our site to make the most of this giant opportunity for new customer acquisition in 2005."
Comments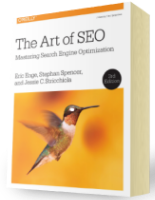 Chapter 7:
Content Marketing
From the fundamentals of link building to the nuances of natural linking patterns, virality, and authority.
Get Free Chapter