News Release: Long Tail Webinar
Contact: Boone Sesvold, Marketing Coordinator
[email protected]
608-285-6600 ext. 109
1-888-207-1109 Toll Free
For Immediate Release
Webinar Offers Insider Look Into Search Engine Research:
Uuntapped search engine resource provides Web sales opportunities
MADISON, WI (August 21, 2006) â?? Netconceptsâ?? recent research paper, â??Chasing The Long Tail of Natural Searchâ?? has generated tremendous interest within the world of search engine optimization and E-Commerce. As a result, Netconcepts is presenting a free Webinar open to the public. This Webinar will focus on its research and how newly found search engine research results can be used to strengthen E-Business sales. The Webinar will be held Thursday, September 7, 11:00 a.m. CST. It offers a first hand look at actual data taken from over one million search terms used with leading retail companies. Register online at: www.netconcepts.com/chasing-the-long-tail-webinar.
Leading this groundbreaking Webinar will be Brian Klais, Vice President of Search for Netconcepts and author of â??Chasing The Long Tail of Natural Search.â?? Experience this new Webinar and be one of the first to fully understand the â??long tailâ?? of search and how to make it work to improve your search engine visibility. For those unable to attend, look for the archived webinar at www.netconcepts.com following the event.
Attendees of Netconcepts' new Webinar will:
Discover the potential of long tail sales opportunities – and how to leverage these opportunities.
Learn how multichannel merchants leverage brands into unbranded â??long tailâ?? keyword markets.
Uncover the results of Page Yield Theory – and its power to dramatically grow E-Commerce sales.
For more information, contact Netconcepts at 608-285-6600 to participate in this free Webinar on September 7 at 11:00am. Or, visit Netconcepts' Long Tail Webinar to sign up for this event.
***
About Netconcepts, LLC
Founded in 1995, Netconcepts is a Web technology company specializing in natural search optimization consulting, including the industry's first performance-based Proxy Optimization TM Service. Netconcepts offers search-friendly E-Business design and development services for such successful retail brands as Discovery Communications, Northern Tool, Home Shopping Network, Kohlâ??s Department Stores, REI, and Cabela's among other brands. Netconcepts has offices in Madison, Wisconsin and Auckland, New Zealand.
###
Comments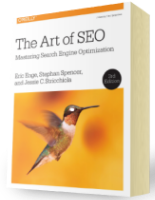 Chapter 7:
Content Marketing
From the fundamentals of link building to the nuances of natural linking patterns, virality, and authority.
Get Free Chapter