News Release: Long Tail Release
Contact: Boone Sesvold, Marketing Coordinator
[email protected]
608-285-6600 ext. 109
1-888-207-1109 Toll Free
For Immediate Release
Capturing The Long Tail
Netconcepts releases latest findings on search engine marketing
MADISON, WI (August 8, 2006) â?? Leading the way into search engine marketing, the Madison based global search firm, Netconcepts, just released its trade secrets on the growing phenomenon of â??long tailâ?? searches.
Netconcepts recently authored and released the white paper, â??Chasing the Long Tail of Natural Search,â?? which sheds new light on upcoming search industry trends. In the white paper, Netconcepts explains the â??long tailâ?? of natural search and its growing importance to E-Business.
â??The â??long tailâ?? in the Netconcepts study refers to how different terms reflect search engine results.â?? said Brian Klais, Vice President of Search for Netconcepts. â??We found that unbranded, multiple term searches are more effective for E-Business than branded, one term searches.â??
In graph form, branded searches spike very high but are only contain one or two terms. There are many more combinations for unbranded terms. These unbranded searches slowly thin and decrease to the right of the graph (the long tail portion).
Branded and unbranded search terms are used daily to help search engine users find what they are looking for. For example, a branded term is Nike; whereas, an unbranded term is Blue and green cross trainer shoe. (Branded: Honda, Unbranded: two-cycle 100 horsepower engine) (Branded: Microsoft, Unbranded: text based documentation software) (Branded: Oakley, Unbranded: red lens lightweight sunglasses) According to Netconceptsâ?? white paper, unbranded terms are used 38 times more often than branded terms. This data was defined by over one million different search terms and 25 Netconcepts websites.
â??The average website in Netconceptâ??s study had less than one quarter of its individual website pages visited by people using search engines,â?? Klais highlighted, adding, â??we see a direct relationship between the number of individual pages getting traffic, and the amount of brand vs. unbranded search traffic received. Long tail size is driven by individual pages and the pageâ??s ability to use specific terms.â??
According to Netconcepts, average successful E-Commerce websites receive over three quarters of their search traffic from brand terms and less than one quarter from unbranded terms. Increasing unbranded traffic could expand a companyâ??s client base and further their revenue. Klais commented: â??It would take a lot of work for an E-Business to increase their ratio to half branded and half unbranded. They would need over half of their individual pages receiving visitors. This is not a small feat. It requires various search engine optimization approaches, affecting many pages with little effort.â??
To download the complete â??Chasing the Long Tail of Natural Searchâ?? white paper, visit http://www.netconcepts.com/long-tail-of-natural-search/. Contact Netconcepts at 608-285-6600 or via email at [email protected].
***
About Netconcepts, LLC
Founded in 1995, Netconcepts is a Web technology agency specializing in natural search optimization consulting, including the industry's only performance-based Proxy Optimization TM Service. Netconcepts offers search-friendly E-Business design and development services for such retail brands as Discovery Communications, Northern Tool, Home Shopping Network, Kohlâ??s Department Stores, REI, and Cabela's among other brands. Netconcepts has offices in Madison, Wisconsin and Auckland, New Zealand.
###
Comments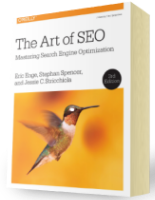 Chapter 7:
Content Marketing
From the fundamentals of link building to the nuances of natural linking patterns, virality, and authority.
Get Free Chapter