News Release: Netconcepts and DoubleClick Performics Extend Partnership
Agency Contact
Christina Armstrong
Connecting Point Communications
[email protected]
650-867-4899
Netconcepts and DoubleClick Performics Extend Partnership to Unlock Hidden Content for Search Engines
DoubleClick Performicsâ?? clients use automated technology to make dynamic, e-commerce sites natural search friendly
MADISON, WI â?? June 4, 2008â??DoubleClick Performics and Netconcepts, the leader in natural search marketing, today announced that the two companies are renewing their several year partnership, which enables DoubleClick Performicsâ?? clients to quickly transform their dynamic, e-commerce sites into natural search friendly pages. Studies indicate most online shoppers prefer searching for generic items over brand names. These enhanced natural search capabilities are of benefit to both retailers and the customers they serve.
DoubleClick Performics, the performance-based online marketing division of Googleâ??s DoubleClick, provides comprehensive search engine marketing services, assisting clients with their paid placement, paid inclusion and enhanced natural search solutions. All services are delivered through DoubleClick Performicsâ?? platform, ConnectCommerce, which enables real-time ROI tracking and reporting, as well as dynamic keyword and bid management technology. Netconceptsâ?? GravityStream technology has been integrated with ConnectCommerce, providing clients with an automated, search engine friendly solution that creates full transparency for natural search results.
GravityStream is easy to implement and does not require heavy reliance on a marketerâ??s technology department. â??GravityStream provides extremely fast time to market for our large retail brands,â?? said Stuart Larkins, Senior Vice President of Search at DoubleClick Performics. â??The best part: it didnâ??t require a lot of technical support. We have been really impressed with how this automated solution has improved the performance-based marketing power of DoubleClick Performics.â??
â??Our partnership with DoubleClick Performics, which is based on our GravityStream automated natural search marketing platform, has produced excellent results for all concerned,â?? said Brian Klais, Vice President of Search for Netconcepts. â??DoubleClick Performics is an important member of our growing team of partners and weâ??re delighted to continue our relationship.â??
Other clients taking advantage of this automated, fully trackable, natural search technology solution include: Pottery Barn Kids, Pottery Barn Teen, L.L. Bean, Ralph Lauren, FinishLine, Sur La Table, BrylaneHome, Woman Within, and Metrostyle.
About DoubleClick Performics
Since 1998, DoubleClick Performics has delivered consumers to our search engine marketing clients. Our structure provides high-level strategic planning and integrated services resulting in a deep knowledge of consumer behavior. As committed industry leaders, our innovative approach to digital performance marketing enables us to anticipate and shape the future while ensuring our clientsâ?? marketing investments are efficient and effective.
Our world-class solutions stem from superior technology with a layer of intelligence and experience that cannot be replicated elsewhere. DoubleClick Performics is thinking forward.
About Netconcepts, LLC
Netconcepts, the leading provider of natural search marketing, offers automated natural search technology and value added services tailored to help retailers drive online sales. For the largest retail brands, Netconceptsâ?? GravityStream solution is an award winning, patent pending SaaS technology that powers the natural search channel. GravityMarket is a comprehensive eBusiness solution for mid-market retailers. Founded in 1995, the company is based in Madison, Wisconsin with R & D facilities in Auckland, New Zealand. Netconcepts serves retail brands such as Skechers, Northern Tool, BNET (a division of CNET), Allen Edmonds and Cabela`s among others. For more information, visit the company Web site at www.netconcepts.com.
###
Comments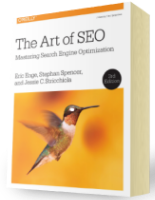 Chapter 7:
Content Marketing
From the fundamentals of link building to the nuances of natural linking patterns, virality, and authority.
Get Free Chapter