News Release: Chris Smith Joins Netconcepts
Agency Contact
Bill Arnovich
Misukanis & Odden
[email protected]
952.400.0342
For Immediate Release
Natural Search Engine Firm Netconcepts Welcomes New Lead Search Strategist
Natural Search Engine Firm Netconcepts Welcomes New Lead Search Strategist Chris â??Silverâ?? Smith to its team
Madison, WI, May 9, 2007 â?? www.netconcepts.com â?? Netconcepts, a natural search firm with offices in Madison, WI & Auckland, New Zealand is proud to welcome new team member, Lead Search Strategist Chris â??Silverâ?? Smith to its Madison, WI office.
Smith will be working primarily on support and development of Netconcepts GravityStreamâ?¢ product, a performance based SEO management platform that is currently helping companies like Cabelaâ??s with non-optimal, dynamic sites to optimize nearly overnight.
An organic search engine optimization pioneer, Smith previously served as Manager of Administration of Texas A&M Universityâ??s Cartographic Service Unit, where he assisted with portions of the universityâ??s earliest website presence. More recently, as Head of Technology & Development for Idearc SuperPages.com, he was awarded a number of individual and team awards by the corporation and was cited for increasing the companyâ??s overall revenue.
Smith has five patents pending and his work has been published in a number of books, professional journals, and web sites, including SearchEngineLand.com where he writes on Local Search topics.
â??Itâ??s an honor to be working for Netconcepts, a firm as dedicated to the ever-changing principals of organic search engine optimization as I am personally,â?? states Smith. â??By offering continually improving products such as GravityStream, our clients, like our tag states, our always assured to â??get foundâ??â??.
About Netconcepts, LLC
Netconcepts®, LLC, is committed to arming top Internet retailers with online strategies and technology platforms designed to increase online sales. With proprietary technology and processes including GravityStreamâ?¢ and GravityMarketâ?¢, online retailers will â??get foundâ?? on the search engines. Online retailers succeeding with the aid of Netconcepts, include Discovery Communications, Northern Tool, Home Shopping Network, Kohlâ??s Department Stores, REI, and Cabelaâ??s among other brands. Netconcepts is based in Madison Wisconsin with a production facility in Auckland, New Zealand.
###
Comments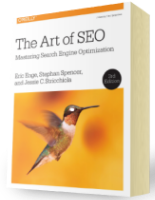 Chapter 7:
Content Marketing
From the fundamentals of link building to the nuances of natural linking patterns, virality, and authority.
Get Free Chapter