News Release: Cabela's
Contact: Boone Sesvold, Marketing Coordinator
[email protected]
608-285-6600 ext. 109
1-888-207-1109 Toll Free
For Immediate Release
Netconcepts Broadens E-business
For Leading Outdoor Outfitter
Cabelaâ??s® to work with Global Web Agency for Search Engine Optimization
MADISON, WI (August 24, 2006) â?? Netconcepts, the Madison-based global agency specializing in natural search optimization and Web site development, has added Cabelaâ??s to its growing roster of multi-channel marketer clients.
Cabelaâ??s, the Worldâ??s Foremost Outfitter® of hunting, fishing and outdoor gear, already works with Netconcepts for various E-Commerce development projects. However, Cabelaâ??s will now begin work with Netconcepts in further developing and expanding search engine optimization for Cabelaâ??s primary Web site.
â??While currently working with Netconcepts, we learned of their leading SEO solutions,â?? said Tom Rosdail, Cabelaâ??s Director of Catalog and Internet Operations. â??Their work will allow us to present more pages than are currently being shown in search engines and will provide us with many additional sales opportunities.â??
Netconceptsâ?? GravityStreamâ?¢ proxy optimization solution was chosen by Cabelaâ??s to optimize thousands of their Web pages on a real-time basis. The GravityStream technology will work with Cabelaâ??s existing Web site to focus SEO opportunities where they will provide the most success. Brian Klais, Vice President of Search for Netconcepts added, â??We are looking forward to adding a new service to our relationship with Cabelaâ??s and furthering their success with our trusted SEO leadership.â??
To learn more about Cabelaâ??s hunting, fishing and outdoor gear, please visit: Cabela's
***
About Cabelaâ??s Incorporated
Cabelaâ??s Incorporated, headquartered in Sidney, Nebraska, is the worldâ??s largest direct marketer, and a leading specialty retailer, of hunting, fishing, camping and related outdoor merchandise. Since the companyâ??s founding in 1961, Cabelaâ??s has grown to become one of the most well-known outdoor recreation brands in the world, and has long been recognized as the Worldâ??s Foremost Outfitter. Through Cabelaâ??s well-established direct business and its growing number of destination retail stores, it offers a wide and distinctive selection of high-quality outdoor products at competitive prices while providing superior customer service. Cabelaâ??s also issues the Cabelaâ??s CLUB VISA credit card, which serves as its primary customer loyalty rewards program.
***
About Netconcepts, LLC
Netconcepts is a global natural search optimization agency providing best-of-breed consulting, technology, and site design services to leading multi-channel marketers. Since its founding in 1995, Netconcepts has designed innovative search-ready web solutions, and has been recognized as one of the leading authorities on search engine friendly e-commerce architecture and design. Client brands include Home Shopping Network, Verizon Superpages, Discovery Communications, Kohlâ??s Department Stores, REI, Northern Tool, and Cabela's among others. Netconcepts is headquartered in Madison, Wisconsin with regional offices in Auckland, New Zealand. To learn more about Netconcepts, visit: www.netconcepts.com

###
Comments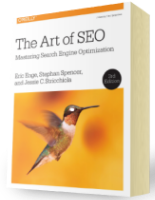 Chapter 7:
Content Marketing
From the fundamentals of link building to the nuances of natural linking patterns, virality, and authority.
Get Free Chapter