Interview with social media optimizer Neil Patel
Neil Patel is a leading practitioner of social media optimization, the new art of weilding tools, strategies, and influence for the purpose of gaining visibility on social media networks and websites like Digg.com, del.icio.us, reddit, NewsVine, Netscape.com, MySpace and even Wikipedia. Neil was recently featured in the Wall Street Journal as one of the top influencers on Digg. You may have heard Neil speak at conferences such as Search Engine Strategies, PubCon, or the AMA's Hot Topic: Search Engine Marketing. His blog Pronet Advertising is one of our favorites on the topic of social media — a "must read".
We're proud to call Neil one of our "Cool Friends." Here he is being interviewed by our founder and president Stephan Spencer…
What are the most important social media sites in your opinion? And why?

There is no particular social site that I feel is more important than another. They are all important because of the varying audience that uses each social site. For example people into politics use Netscape while people into technology use Digg. Because of this it is important to keep an open mind about all of the social sites.

Which ones are the easiest to manipulate, in other words to raise your content to the top?

I have not tried to manipulate any social sites, but it seems the less popular ones like Furl and My Web are easier to manipulate because they have less sophisticated algorithms. Once they become more popular and start becoming abused more it will become increasingly difficult to manipulate these sites due to the growth of their algorithms. When it comes to social media marketing, the idea is not to manipulate the social sites; it is to add value for users by creating compelling content that they are interested in.

What is the traffic potential if you manage to get to the front page of Digg.com, or to the del.icio.us popular page, or any other site that you recommend?

The traffic that Digg drives once a story hits the homepage can vary quite a bit. I have seen some stories get only a few thousand visitors and some have received as much as 20 thousand to 30 thousand visitors.

Del.icio.us on the other hand does not drive as much as traffic as Digg, but if you get on the popular and hotlist page you can usually get a few thousand visitors.

Some of the other sites that also drive great traffic are Reddit, Netscape and StumbleUpon. With each of these, traffic levels could be as low as a few hundred visitors and as high as 10 or 20 thousand visitors. For most social websites, traffic mainly depends on the time of day the story hits the homepage and the topic of the story.

What are some of the more clever examples of companies achieving a high level of visibility on some of these sites?

One clever example that comes to mind is a â??Geekâ??s Guide to Getting in Shape: 13 Surefire Tipsâ?? because it did really well on the social sites and was not really related to the topic of the website.

Some of the other companies that achieve great success from these sites are all the web 2.0 sites that try to get on the homepage right when they launch.

If alpha geeks are the primary users of Digg.com, and they are not your target audience, is there still value in achieving a front page story on Digg?

There is still some value of reaching the homepage of Digg because a few of those visitors may love your site. In most cases if your target market is not tech geeks you should look at other social sites that your target audience uses. Getting on any of these can help increase your traffic, readership, branding, and links.

If it is about the links that you get out of it, what is a typical outcome in terms of the number and quality of the links obtained?

When most people judge the amount of links these social sites drive they use Yahoo. Rand Fishkin and a few others have seen up to 2000 backward links every time a story gets on the homepage of sites like Digg. Personally, I prefer using Technorati to check backward links and based on their estimates, you can usually see between 40-200 links for every successful story.
Comments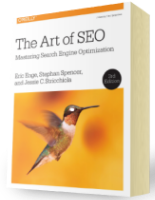 Chapter 7:
Content Marketing
From the fundamentals of link building to the nuances of natural linking patterns, virality, and authority.
Get Free Chapter