Searching for Customers Searching for You
Ann Meyer, author for Multichannel Merchant, discusses the power of natural search over paid search listings. This article goes on to mention the importance of proper keyword usage and the need for scaleable optimization techniques.
Included in this article are quotes from Netconcepts' Vice President, Client Services, Jody Hartwig. Jody shares her views on natural search and the best practices needed to succeed in todayâ??s market.
Jody adds that when it comes to search optimization, â??itâ??s something you have to tweak and stay on top of over time. If you donâ??t, youâ??re likely to see a decline in your rankings,â?? Hartwig continues. â??Search engines change their algorithms, and other competitors are optimizing at the same time.â??
Read this entire article and learn vital insider SEO methodology.
Comments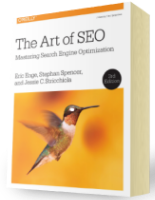 Chapter 7:
Content Marketing
From the fundamentals of link building to the nuances of natural linking patterns, virality, and authority.
Get Free Chapter