Interview with IBM's Mike Moran
In this interview, Stephan Spencer, Founder and President of Netconcepts, sits down with Mike Moran, Distinguished Engineer for IBM Corp. Mike is an author and search marketing pioneer, who brought SEO to IBM and was able to use techniques to implement best practices on a massive scale. From establishing ROI to savvy uses of corporate resources, we talk about how powerful SEO can be for huge corporations, and how search marketers can navigate their way through corporate channels to effectively test new marketing strategies, attract customers, and incorporate SEO into their daily lives.
If you prefer to read this interview, check out the transcript.
This podcast is now available for you to listen to.
Comments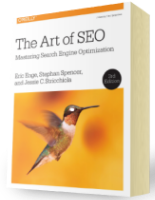 Chapter 7:
Content Marketing
From the fundamentals of link building to the nuances of natural linking patterns, virality, and authority.
Get Free Chapter