Website audit an eye opener – integrated approach appreciated
"Netconcepts' Web site audit gave us incredible insight into usability issues of our Web site. We also gained a new appreciation for the importance of external and internal search engines.
Some of the recommendations will be a major undertaking for us, for instance the search engine optimization. As Netconcepts advises, search engine optimization can't be tacked on as an afterthought. Thanks to Netconcepts, our search engine strategy will not be a retrofit; it will be an integrated approach, designed into the site along with the graphics and coding from the very beginning.
Overall we found Netconcepts' audit of our site to be extremely valuable. It was a real eye opener. We highly recommend it."
Jim Broennimann
Internet Manager
Midwest Express Airlines
Comments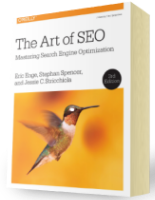 Chapter 7:
Content Marketing
From the fundamentals of link building to the nuances of natural linking patterns, virality, and authority.
Get Free Chapter