Microsites with "pass it on" appeal
Microsites can be really good at going "viral" if they are clever and have "pass it on" appeal. Subservient Chicken, Burger King's microsite was such a site. It featured a person dressed up in a chicken suit wearing lingerie. You could give it commands by typing them into a box. Pretty weird. Not surprisingly, it became quite popular and went viral.
You improve the chances that your campaign will go viral if it's a microsite because then it's at an arm's length from your corporate/brand site. Corporate sites rarely go viral. Subservient Chicken, for instance, surely had more "pass it on appeal" as a separate site than as a subdirectory within the BurgerKing.com site.
Emerald Nuts launched a funny microsite called AngryLeprechaun.com, which they tied in with their very expensive Super Bowl commercial and promoted through press releases. The site was a spoof; supposedly a leprechaun was supposed to be in the television commercial and was edited out in the final cut. Consequently, the leprechaun was very angry about it so he set up his own website. Visitors can watch the 'unedited' video clips with him in the commercial. Cute idea.
Another funny microsite is the counterfeit Mini spoof site. Brilliant!
What are your favorite microsites? Post a comment!
Comments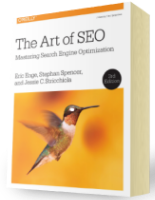 Chapter 7:
Content Marketing
From the fundamentals of link building to the nuances of natural linking patterns, virality, and authority.
Get Free Chapter