Delivered more than theory for this health services provider
"Netconcepts gave us a fresh perspective on our company's Web site. I was pleasantly surprised to find their evaluation filled not with vague theory, but specific items we could improve. Although we were focused on enhancing usability, the audit also uncovered some urgent legal exposures we hadn't addressed properly. And I found Netconcept's assessment to be honest and trustworthy, not a setup to pitch more services.
Overall, while we may not be able to implement all of the suggestions immediately, it was an excellent benchmarking exercise for prioritizing improvements and measuring our progress."
Anne Bogen
Internet Specialist
Meriter Health Services
Madison, Wisconsin
Comments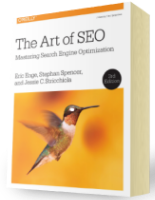 Chapter 7:
Content Marketing
From the fundamentals of link building to the nuances of natural linking patterns, virality, and authority.
Get Free Chapter