Marketing Transparency
Mike McDonald of WebProNews interviewed our very own Stephan Spencer at SES in Chicago last month, in December 2006. This 10 minute interview with Stephan and Lee Odden from TopRank discusses the credibility of Web 2.0 marketing tactics in the eyes of consumers.
Stephan and Lee discuss the importance of not "bluffing" in your multichannel marketing; consumers will see right through your transparency. Establishing trust and "practicing what you preach" with your constituents is the best, best practice. Watch this intriguing interview below.
Comments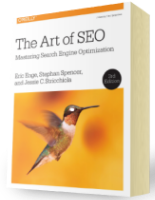 Chapter 7:
Content Marketing
From the fundamentals of link building to the nuances of natural linking patterns, virality, and authority.
Get Free Chapter