Make It Easy For Your Web Site Customer To Do Business With You
You compete online against every website that could possibly be of interest to your customers. So how do you satisfy — or better yet — dazzle your customers?
Creating a personalized, interactive online experience will pay dividends in customer loyalty. Rise above "data smog" on the Internet to help customers deal with information overload, solve their business problems, and become more productive. Above all, make it easy for them to do business with you.
Start by considering your online customer service effort as an iterative process. It's never finished. It should keep evolving, just as your customers' needs keep evolving. Designer underwear maker Joe Boxer applies the slogan "Change daily!" not only to its products, but also to its online presence. Keeping your site fresh is an important step in attracting customers back again and again.
Avoid a "brochureware" or "cobweb" site by scheduling incremental website updates in addition to major upgrades, and keep your customers aware of new offerings via e-mail (but only with their permission). You'll give them additional value without their having to return to your site.
Possession is not 9/10ths
"Since most other sites are bad, you can attract loads of customers if your site is easy to use and satisfies real user needs."
Remember: It's the customer's site, not yours! Take the time to ask them what they want to see, and your website will be on the road to providing successful customer service. Make sure you follow through and improve the site using customer feedback from e-mail, focus groups and online customer satisfaction surveys.
Website content is important, but the way you present it is crucial. Don't force long treatises on your customers– people read about 30 percent slower from a computer screen than they do from paper. Let them quickly scan short documents, answer questions, and point-and-click. Engage and involve them in the experience of your website.
Providing enough information to prevent customer frustration is essential, so use intuitive and efficient search, browse, and transaction processing to put it at their fingertips. It all comes down to usability–the quality of the user's experience on your website.
"Since most other sites are bad, you can attract loads of customers if your site is easy to use and satisfies real user needs," says Jakob Nielsen, an Internet usability expert, who estimates that 90 percent of websites suffer from very poor usability.
A powerful and simple search engine displayed prominently on your site will increase usability. More than half of Internet users are "search-dominant," meaning that they'll first use a site's search engine before browsing through pages and links to find what they need.
What seemed an unattainable level of service a decade ago–real-time Federal Express package tracking; online loan application approval in three minutes–has become the norm today. With call centers merging with the Internet, customer inquiries are routed, tracked and answered within minutes via artificial intelligence augmented by combined voice, video and data communications with live customer service representatives.
But despite customers' high expectations, many companies aren't achieving even barely acceptable levels of customer service. Why, for example, don't companies do a better job with something as basic as e-mail? According to Jupiter Communications, 42 percent of high-traffic websites either don't accept, don't respond to, or take longer than five days to respond to e-mail. On the Southwest Airlines home page, a paragraph reads "Why we don't accept e-mail …"
Neglecting e-mail is a mistake companies can't afford if they want successful customer service. E-mail is the great equalizer: Everyone online has it; it's easy to use, and it's not heavily affected by bandwidth bottlenecks or antiquated hardware and software.
According to the customizable business research site Find SVP (www.findsvp.com), more than 10 million Internet users have e-mail, but not web access. What are you doing to reach that audience? Do you promote your e-mail address as vigorously as your website address? How do you ensure that your e-mail inquiries are dealt with in an efficient and timely manner?
Customer self-service is the key to saving your company from drowning in a deluge of e-mail inquiries. Ask your customer service reps, and you'll find that many of your customers ask many of the same questions. Save time and money by answering them before they're asked: Give customers a Frequently Asked Questions (FAQ) document. Keep a database of customer questions and company answers to draw from. Companies use FAQs in many ways: referring customers to the FAQ during the on-hold message, cutting and pasting relevant answers from the FAQ into
e-mail responses, including the entire FAQ in automated e-mail responses, and sending the FAQ out as a bill-stuffer (which is becoming increasingly common as an e-mail attachment with the advent of online billing).
Customer self-service can also take the form of a community of customers helping each other by answering each other's questions and providing tips, tools, and suggestions. Sustaining an active and spam-free community (in Internet jargon, "spam" is the term used for any unsolicited e-mail, messaging, or traffic) is not an easy chore, but can be one of your greatest assets. These communities–or "boards"–take many forms, typically a discussion forum on your website. Chat rooms, Usenet newsgroups, and listservs (automated e-mail generators) are also common.
However, before "opening the floodgates," you should make sure your site is suitable for public consumption by evaluating its strengths and weaknesses. I recommend selecting an outside audit firm with no vested interest in your online presence. An auditor should review the site in the following areas; legal and procedural, public relations, financial (ROI), performance and reliability, customer service, task force, technical, user experience, accessibility, content, community, e-Commerce, privacy and security. Use the auditor's recommendations to improve your site.
After listening to your customers, revamp and audit again–in other words, improve continuously.
The book, Customer Service on the Internet, 2nd ed. (which received a five-star review by Amazon.com), is a good primer to help start you on the path of customer service enlightenment. Good luck!
Note: Customer Service on the Internet: Building Relationships, Increasing Loyalty, and Staying Competitive, 2nd Edition, by Jim Sterne, is a 368-page paperback, published in May 2000 by John Wiley & Sons. The book's ISBN number is 0471382582.
About the Author
Stephan Spencer is the founder and president of Netconcepts, a website development company. He is a frequent speaker at Internet conferences worldwide. He may be reached via e-mail at [email protected].
Comments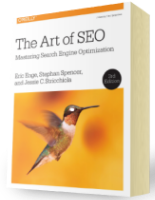 Chapter 7:
Content Marketing
From the fundamentals of link building to the nuances of natural linking patterns, virality, and authority.
Get Free Chapter