Chasing the Long Tail of Natural Search
CHASING THE LONG TAIL OF NATURAL SEARCH
How to size and capture the unbranded keyword
For every brand search, there are 40 non-brand searches…
Is your "long tail" hiding from you?
According to new research by Netconcepts, your retail website may be missing the single largest opportunity that natural search has to offer — the long tail of unbranded keyword searches.
Discover how large your long tail sales opportunity really is – and
how much you may be missing
Learn how multichannel merchants are leveraging their brands
into unbranded "long tail" keyword markets

Uncover the secrets of Page Yield Theory — and its power to
exponentially grow your E-commerce sales
Download this new thought-provoking research paper now, and begin to capture the long tail of unbranded search.
Download the White Paper Here!
Netconcepts Solutions
Talk to us about improving returns on your E-Business investment.
Comments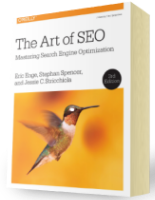 Chapter 7:
Content Marketing
From the fundamentals of link building to the nuances of natural linking patterns, virality, and authority.
Get Free Chapter