Legal Risks of Doing Business Online
Web Site Legal Issues: Navigating the Landmines
No I'm not a lawyer, but I do play one on TV. Seriously though, in the case of operating an online presence and the subsequent legal issues that follow, what you don't know may very well hurt you.
Operating in the virtual world entails the same – or potentially greater – legal risks as operating in the real world. These risks take many forms: copyright infringement, trademark infringement, copyright ownership, liability, breach of confidentiality, libel and slander, just to name a few.
A surprising number of companies don't post a Terms & Conditions of Use agreement on their site. That mistake could become a costly one. Of those companies that do post legal notices, many such documents are horribly incomplete.
Unless you specifically disclaim otherwise, you are implicitly endorsing other sites when you link to them. Thus, a dissatisfied – or worse, ripped off – user of one of the sites that you link to could sue you for "recommending" them.
Disclaimers of liability must be in ALL CAPS to be legally enforceable. It's not uncommon for a Web designer to reformat content that is in ALL CAPS to lower case (after all, ALL CAPS is considered screaming on the Internet, and thus, in bad taste). In doing so, of course he or she has concomitantly invalidated the disclaimer, albeit unwittingly.
If you have an online community on your site, such as a discussion forum, newsgroup, or chat room, you'll need an expanded Terms & Conditions. In fact, a separate "Discussion Forum/Chat Room Agreement" may be in order (see www.writers.net/legachatroom.php for an example). You will need to assert that:
You do not guarantee that the user-contributed content is truthful, accurate, or reliable.
Nor do you endorse any of the opinions of your users.
Nor are you responsible for monitoring material posted by users.
In addition to posting legal notices on your Web site, you should also post a "privacy policy" conspicuously on your site. A privacy policy addresses what you'll be doing with the user's information, both now and potentially in the future, who you will share it with, and in what circumstances.
Some businesses will refuse to do business with you if you don't have an adequate privacy policy posted on your site? IBM for example, will not advertise on sites that do not post a privacy policy that they find acceptable.
Of course posting a privacy policy means that you will have to abide by it, with no exceptions. Don't think for a minute that you can revoke or weaken a privacy policy once you've already published it on your site, or you may end up on the wrong side of a lawsuit!
Don't forget to display copyright statements at the bottom of every page of your site, not just on your home page. This will help protect you from copyright infringers using "innocent infringement" as a defence, whereby they claim that they didn't know that the page was copyrighted. This is an issue because web visitors can enter your site at any point through search engine queries. They may never even see your home page.
U.S. law provides further protection against copyright infringement to those who register a copyright with the Library of Congress. The cost is a mere $20 and a few forms to fill out. The benefit is that you can claim statutory damages for future infringements in a lawsuit rather than having to prove actual damages.
You may be shocked to learn that you may not even possess the copyright to parts of your Web site. If you contracted with outside vendors to develop your Web site, they own any and all graphics, HTML and programming code that they created for you. You can obtain copyright ownership from your contractors by executing a "work for hire" agreement, copyright assignment, or Web development contract with them.
While there's no substitute for having a good lawyer, many of these legal landmines can be dealt with cost effectively with standard legal "templates." The book Internet Legal Forms For Business (ISBN 096391734X) offers a dozen such templates. Commentary from the authors accompanies each form, including an overview of applicable situations, a checklist of relevant issues and tips for negotiating with the other party. The book includes a sample:
copyright assignment agreement;
content license for text, photo, or video material;
Web site Terms & Conditions of Use;
Web site development contract;
Internet advertising contract;
Internet use policy;
clickwrap agreement
linking agreement
permission-to-link form, and
domain transfer agreement.
Comments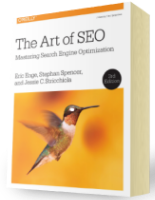 Chapter 7:
Content Marketing
From the fundamentals of link building to the nuances of natural linking patterns, virality, and authority.
Get Free Chapter