Keywords in hyperlink text
Q: When using text nav, where do I place the keyword(s) within the hyperlink text? Before/after a "?"â?¦?
A: Ummâ?¦ There is no ?" in hyperlink text. For example: Ford cars and trucks doesn't have a ? character anywhere. Your keywords can go anywhere in the hyperlink text.
Comments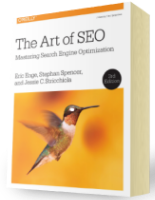 Chapter 7:
Content Marketing
From the fundamentals of link building to the nuances of natural linking patterns, virality, and authority.
Get Free Chapter