Keyword-rich titles
Q: If the name of my website is XYZ, What is the best title to put for my About Us page? "XYZ-About Us" or "About us"?
A: Neither, actually, unless XYZ is something a popular search term with your target audience. After all, no one is going to type in "about us" into a search engine. So a more descriptive, keyword-rich title would be called for here. For example, if XYZ is a widget manufacturer, then a title of "About the Widget Manufacturers at XYZ" would be appropriate.
Comments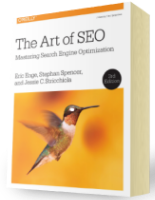 Chapter 7:
Content Marketing
From the fundamentals of link building to the nuances of natural linking patterns, virality, and authority.
Get Free Chapter