Interview with blogger Jessica Duquette
Jessica Duquette is founder of In Perfect Order and business blogger at It's Not About Your Stuff. She's one of our "Cool Friends" and was interviewed recently by Netconcepts' founder and president Stephan Spencer.
What do you do to build relationships with other bloggers? Has it turned into links?

When I first started my blog, I wasn't sure where my niche was, was I a business blogger, a 'mommy blogger' or what? I just started cranking out postings without rhyme or reason. Then one day, I realized that if I went to Sitemeter and checked the referral stats, I found out not only who was linking to me, but also what folks were typing into the search engines to find me. This was a goldmine for several reasons:

I can then tailor my posts to the topics people are most interested in. You CANNOT believe how many people find me through the search term "cubicle makeover"! Who knew? I only wrote one post about that, but the hits just keep on coming. As a result, I am in the process of contacting a woman in Seattle who wrote a book on cubicle makeovers so that I can do a podcast with her for my site. This is smart blogging, and it is a great way to make good connections, have fun meeting new people and to learn new things. Also, it's free keyword research tailored to me!
On Sitemeter referrals, it actually shows the exact Google or Yahoo search page results that the person who clicked over to me saw. I have come across many great articles and created blog postings by looking down the page at the other results, as it was obviously to a topic that at least one of my readers was interested in!
Through the referrals, I discover who has been linking to me and I can contact them and create more ways to mutually link to one another. I found my "sister" organizer, Ariane Benefit, that way and now we offer each other a steady stream of links by referring to one another in our posts all the time. We are considering collaborating on an information product at some time in the future. I also created a relationship with two Christian mommy bloggers (they are amazing powerful women and a force to be reckoned with!) and just became a guest expert "ask the organizer" for a once a month column on their blog site. This happened because they linked to me one day and I visited their site.

The best advice I have for any business bloggers is to spend as much time connecting with other bloggers as you do on your own posts, by visiting their site, commenting on specific postings that can then link back to your site, participating in blog carnivals, quoting excerpts from their posts and linking to their sites, and allowing others to do the same from your posts. You can be writing all day long but if you don't have links from other sites, you will not be seen by nearly as many readers. Not to mention the wonderful personal connections you can make by meeting people through blogging. It only takes one lucky link from someone to turn you from 120 people a day to 12,000 visitors a day!

In Oct. 2006, I am traveling to Seattle to be at the Business Blog Summit. That is another way to connect with other bloggers and create mutually beneficial links.

How specifically has blogging grown your business?

Right now, I feel I am in the foundation stage, just building connections with the media and other bloggers and developing my readership. I was already featured in the Wall St. Journal's Blog Watch column and will be a contributing blogger to Arianna Huffington's new portal in the next few weeks, so I am building my brand as an organizing expert with a twist. I feel this foundational work is going to reap it's rewards in the long run, rather than creating a flash in the pan. I plan to collaborate with people in the future on information products that I will be able to sell, and I am hoping to videocast at some point in the future.

On a different note, I just added AdSense to my blog and it will be interesting to see if that has an effect on my income!

Any mistakes you learned from?

Oh, yes! Just yesterday, I got quite a nasty email from someone who was upset that I had excerpted too much from a post of theirs. I had linked to the site, of course, right at the top of my post, but the blogger in question felt I had revealed too much and people wouldn't want to link back to the original site because they got what they needed from my post. I immediately accommodated the request and removed some of the material, no problem, and I learned (the hard way) to be smarter about the way in which I quote people! Ouch.

I also learned that there are kind and diplomatic ways to let people know what you need, or what is bothering you, and harsh and critical ways, and that I feel more connected to people who ask me nicely. It is more likely that I would want to connect with them in the future. (My intention in linking to that post was to be friendly and to connect, not to plagiarize!) I am going to remember that the next time I get upset at someone. You catch more flies with honey than with vinegar.

The blogosphere is just coming into its own right now and there are no firmly delineated laws or even set cultural norms on quoting others, just respectful and polite ways of doing things, which are defined by each individual's values and integrity. I learned that it is better to err on the side of caution when it comes to quoting others. It was a valuable experience and if I can save another person from making the same faux pas, that would be great!

I have generally found the blogosphere to be a warm and friendly and extremely supportive place, with few exceptions. I got a response back from Guy Kawasaki within minutes. That guy must get THOUSANDS of emails every day! Dave Taylor let me add him to my Linked In list. I had my photo taken at the BlogHer conference with Dave Winer (the guy who wrote the first blog). People have shared information, tips, and course corrected me without my asking (you, for example!). For that, I feel so grateful and humbled. My life and business have been immeasurably enriched by having a blog.
Comments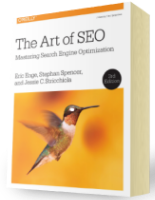 Chapter 7:
Content Marketing
From the fundamentals of link building to the nuances of natural linking patterns, virality, and authority.
Get Free Chapter