Interview with Persuasion Architect, Bryan Eisenberg
Persuasion Architecture is based on Bryanâ??s idea that, â??everybody does things for their own reasons.â?? These reasons translate into four, distinct preferences, the how and why people do the things that they do. Once you understand the four basic personality types â?? emotional, logical, fast-paced, and disciplined â?? you can build perspectives or snapshots that give you insight into how your customers might want to purchase your products. Once you understand the â??how,â?? then you can build the â??who.â?? Who is buying your products from your site? Thatâ??s where profiles come into play, small pictures to what Bryan says will â??give us a little better understanding of who that grouping or that mode of behavior is going to be â?? and then ultimately two personas.â??
Listen to Stephan Spencer's interview with Bryan Eisenberg for more about how to boost your siteâ??s conversion rate.
Comments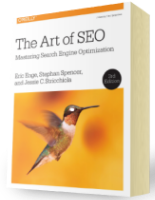 Chapter 7:
Content Marketing
From the fundamentals of link building to the nuances of natural linking patterns, virality, and authority.
Get Free Chapter