Interview with Neil Patel, Social Media Optimizer
The phrase "social media optimization" is relatively new to search. SMO is defined as: the new art of wielding tools, strategies, and influence for the purpose of gaining visibility on social media networks and websites like Digg.com, del.icio.us, reddit, NewsVine, Netscape.com, MySpace and even Wikipedia.
Neil Patel a leading practitioner of social media optimization, a top influencer at Digg.com and an eloquent speaker. In this 15 minute interview, Stephan Spencer, President and Founder of Netconcepts, sits down with Neil to talk about the most important social media sites. You'll learn how to get there, how to determine potential risks, and what the benefits are to engaging in SMO.
Comments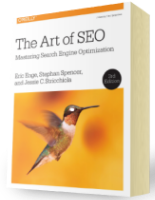 Chapter 7:
Content Marketing
From the fundamentals of link building to the nuances of natural linking patterns, virality, and authority.
Get Free Chapter