Interview with Marylynne Tosyali from Wards.com
Marylynne Tosyali, Director of Online Marketing at Direct Marketing Services Inc., the company behind Wards.com, HomeVisions.com, and several other online stores, is interviewed by Stephan Spencer, President and Founder of Netconcepts.
Stephan and Marylynne covered topics in search from a client's perspective, Marylynne's experiences with GravityStream, and their decision to enter the blogosphere.
Listen to this 44 minute podcast, and get an interesting take on search from an online retailer.
Comments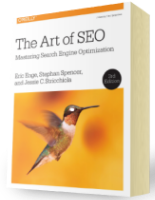 Chapter 7:
Content Marketing
From the fundamentals of link building to the nuances of natural linking patterns, virality, and authority.
Get Free Chapter