Create pages for customers, not search engines, experts urge retailers
Online retailers must be careful not to fall into the trap of creating pages for search engines, rather than customers, warn experts. In a panel presentation at the Annual Catalog Conference, panelist Stephan Spencer, President of Netconcepts said online retailers need to make their content sing to the search engines.
"Minimize extraneous HTML code," Spencer said. Search engines look for relevant content by viewing HTML code. Too much HTML can bury important site information too deep within the code, he said. "Make your HTML sing."

Page rank, achieved by the number of other sites that link to a site, is an important way that Google lists sites in search results, Spencer said. "Links into a site count as votes," he said. He walked attendees through how to download an application from Google that can tell a user at a click the site's page rank. But he noted that sheer numbers aren't the answer. "A link from CNN.com is worth a lot more than a link from someone's personal page.com," he said.
Comments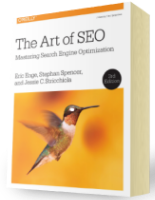 Chapter 7:
Content Marketing
From the fundamentals of link building to the nuances of natural linking patterns, virality, and authority.
Get Free Chapter