The Internet Marketing Plan
It never ceases to amaze me how few companies have a suitable Internet marketing plan, let alone one that is actively maintained.
Many companies operate under the myth that their overall marketing plan can simply include an online component. The Internet however, is not just another channel. It offers an entirely new way of doing business. It deserves – and necessitates – a separate, in-depth marketing plan.
Having a "site map" but no Internet marketing plan is like having a street map for the wrong city. An Internet marketing plan is your compass that points you in the right direction.
One of the more important concepts to grasp when developing your plan is the difference between objectives, strategies and tactics. Objectives set the vision, and as such must be defined first. Strategies are ideas and approaches put that vision into action. Finally follow the tactics and technologies that bring those strategies to fruition. A plan thought out in any other order puts the cart before the horse.
A typical plan is broken down into the following sections: Executive Summary, Statistics, Strategies, Budget, Task Force, Program Implementation, and Summary. It's not that different from a traditional marketing plan.
Executive Summary: This is a succinct overview of your plan at the 30,000 foot level. Include why you are writing an Internet marketing plan, company goals, background and historical analysis, products and services overview, market size and outlook, competitors, and potential opportunities.
Internet Market Statistics: This section portrays the size and make-up of your market. It includes estimated numbers of users, users demographics, usage trends in general and within your industry, user behavior and purchasing authority.
Marketing Communications Strategies: This section defines your marketing objectives and goals, and offers specific strategies for achieving these goals. Before deciding on strategies, you should review trade publications, competitors' Web sites and literature, industry analysts' reports, etc. for market trends, case studies, quotes and interviews. Use this information to identify those market opportunities worth exploring.
Internet Marketing Budget: In this section, you estimate costs for the necessary hardware, software, Internet connectivity, consulting services, employee salaries, advertising, etc.
Internet Marketing Task Force: Recruit existing staff from Marketing, Sales, Customer Service, Information Systems, and Research & Development. You may wish to consider temporary personnel as needed to fill internal gaps. In-house roles you will need to fill will include team leader, decision makers, contentmaster, editor, webmaster, and contributors.

Outside vendors may include Internet Service Providers, Web developers, interactive agencies, and consultants. Required outsourced roles will include producer (i.e. project manager), account manager, design staff, production staff (programmers and HTML coders), and systems administrator.

Internet Marketing Program Implementation: In this section, you should delineate your online marketing activities, discuss how each activity complements and impacts your traditional marketing, identify cross-promotional opportunities, evaluate of outside vendors, and lay out the program launch, schedule and timeline.
Summary: This section summarizes overall recommendations for action, reasoning, and timing considerations.
Preparing an Internet Marketing Plan can appear to be a daunting task. Kim Bayne's book The Internet Marketing Plan will provide you with a wealth of additional information and templates to help you on your way.
Comments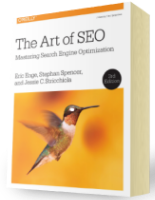 Chapter 7:
Content Marketing
From the fundamentals of link building to the nuances of natural linking patterns, virality, and authority.
Get Free Chapter