Case Study: InnSite
InnSite is one of the leading bed and breakfast directories on the Net. Founded in 1994 by then graduate student Stephan Spencer, InnSite is also one of the longest standing ones. The directory covers 68 countries, all 50 US states, all 12 Canadian provinces/territories and detailed directory listings number over 12,000. Selected by Yahoo! Internet Life magazine as "Best Inn Directory" and reported on in the Wall Street Journal.
Challenge
Since its inception, InnSite has been a free service to both innkeepers and travellers. The site is actually owned by Netconcepts which gives us a lot of lattitude. As a free service the challenge for us has been to make InnSite a profitable venture for us, one that warrants our continued focus. The site was well search engine optimized and had a significant amount of traffic, in fact it is one of the highest trafficked websites of all the sites that we host. However all that is of no consequence if the site is actually a loss-making venture. So we were looking for a way to make money without adding significant overhead or drastically changing the business model. That is not to say that in the future we won't decide to charge innkeepers a subscription fee, but at this point in time we have opted not to.
Solution
Thanks to Google's AdSense program we had a path forward. Using a number of techniques to optimize the Google ad clickthrough rates, including such things as placement, colors, sizes, and keyword foci, we were able to turn InnSite into an ongoing revenue stream. Further search engine optimization of the site pages gave us a further lift.
Results
InnSite went from being a loss-making venture to one of our most profitable web projects. Our Google AdSense revenue regularly exceeds $10,000 per month and, considering the handful of hours that we put into maintaining the site each month, it offers quite a lucrative profit margin.
Stephan Spencer, founder of InnSite and of Netconcepts has this to say:
"My staff's superb understanding of SEO and AdSense optimization saved this little pet project of mine and turned it into a viable part of Netconcepts' business and for that I am grateful. The bed and breakfast industry is one that is close to my heart."
For the future, we intend to continue developing InnSite, using it as a test bed for Web 2.0 search engine optimization approaches. Stay tuned, and hopefully in the not-too-distant future you are going to see such things as tagging and blogs incorporated into InnSite!
UPDATE: As of January 7th, 2010, Innsite is no longer Netconcepts.com property. It was acquired by an undisclosed party for an undisclosed sum. It is now under new ownership and in good hands.
Comments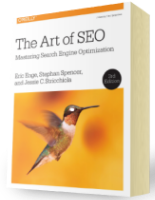 Chapter 7:
Content Marketing
From the fundamentals of link building to the nuances of natural linking patterns, virality, and authority.
Get Free Chapter