Relationship continues as company evolves
"As an operator of several search engine properties, we recognize the opportunities that search offers for driving qualified traffic. Netconcepts helped us to optimize our Yellow Pages and White Pages listings to increase our traffic and advertising revenues.
Netconcepts also helped us resolve some back-end issues that were diluting our ranking in category and location specific keyword searches on Google, Yahoo, and AOL. The content Netconcepts covered in their audit and workshops was helpful in guiding our development efforts.
We intend to continue our relationship with Netconcepts as we evolve our search marketing strategy."
Tasha Irvine
Senior Product Manager
InfoSpace Inc.
Comments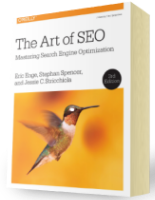 Chapter 7:
Content Marketing
From the fundamentals of link building to the nuances of natural linking patterns, virality, and authority.
Get Free Chapter