How to Get on Google Maps Without an Address
One of the top issues in delivering up local search results in a map-based format is what to do with businesses which have no street address. During the SMX Local & Mobile conference back in October, Dick Larkin asked Google Earth VP Michael Jones a question about this very thing: "What should we recommend to local businesses which do not have a local street address—how do they get into Google Maps search results?" Michael's answer was surprising. I'll give you his answer in a moment.
There are a lot of local businesses out there that have no addresses. These are frequently independent contractors like plumbers, electricians, mobile auto repairmen, house painters, roofing contractors, building contractors, and so on. These guys may operate out of their vans and trucks, and are not set up for having the public show up on their doorstep.
A brick-and-mortar location for a business is not just its "home base." A store with a sign out front typically serves as a kind of advertisement, too, allowing passers-by to spontaneously decide to drop in, or to file the biz away in their memory for any future needs. The address-less types of businesses don't get to benefit from this type of in situ advertising, and so they're even more dependent upon other advertising such as newspaper, yellow pages, television, and internet—as well as word-of-mouth.
So, here you have these traditional service providers flung abruptly into the modern world of rapidly-evolving local search. As printed phone book usage may be decreasing, these guys need internet presence and they know it. The savvier ones also know that people are increasingly searching for businesses via search engines, and particularly in local search engines.
For these guys who need biz directory placement, it really kills them if they can't get into a service like Google Maps.
Just to get a feel for the scope of the issue, compare the results in Google Maps for a search for "Plumbers in Dallas, TX":
If you scroll through the listings, you'll notice that only businesses with actual street addresses are listed in the first page of results.
By contrast, in yellow pages sites like Superpages.com, Yellowpages.com, and Yellowbook.com, as well as in some of the other local search sites like Yahoo! Local and Live Search Maps, quite a number of plumbers who don't have physical addresses displayed are also included in the results.
With Google's local search popularity on the rise, these small businesses are getting more and more driven to get into the listings.
So, what was Michael Jones's answer to Dick's question—how are businesses with no addresses supposed to get into Google Maps results?
He essentially said that they should try to get an address in the city because Google did not display businesses that didn't have addresses—after all, he quipped, one can't pinpoint something without an address on the map. He suggested that those businesses could rent a post box to accomplish this.
I found this suggestion surprising and a bit disappointing. I'd rather expected him to declare that they expected to soon deploy a new version that would allow some method of displaying local businesses that didn't have specific addresses.
I'd actually recommended that businesses might use rented mail boxes to get better Maps rankings as a sort of "extreme local search tactic" way back in January of 2007, but I did that while figuring that few businesses were likely to actually do that. The tactic is apparently not so "extreme" after all. Google Maps help provides similar advice.
Hearing this method recommended by Google was surprising to many of us, because it seems like something of a hack—it is a hack. The expected/needed functionality isn't there, so you have to resort to doing something nonintuitive/unnatural to make it work.
There are rare cases where Google Maps does display a business without an address:
Maps personnel suggest this may have happened due to "incomplete" data from yellow pages providers. The data may be incomplete from Google's perspective, but YP sites allow display without an address, as mentioned above.
This is not the only case where businesses might have to go through Google's yellow pages partners to achieve presentation treatment they've grown to expect as a standard directory feature. Mike Blumenthal has outlined how Google's sharply limited number of business categories has also caused some heartburn, and those wishing for a more granular category designation would likely also have to achieve it through their listings at a yellow pages site.
Google's desire to use mailing addresses to verify businesses seems reasonable, but it shouldn't be necessary to actually display the address. It's also reasonable to say that a graphic map interface perhaps shouldn't be pinpointing items without specific addresses—in the screen grab above, the address is defaulting to a city or ZIP code centroid, making the business location appear to be floating out in an area without roads. This aspect is a bit of a downer from a user-experience perspective.
Google Maps isn't purely just the graphic map, though. The listings at the side of the map and the listings appearing in regular keyword search results for local queries provide a more traditional directory format. It could be possible to display the addressless businesses in these listings without pinpointing them on the map.
While Google's decisions around this are founded on their usual, laudable pro-user-experience bias, this situation isn't at all desirable from the user's perspective, either. Most small, established businesses have expectation of being represented in directories and don't know that they need to rent a post-box to appear here. So, these logic rules are reducing the degree of choice available among providers and reducing competition. Google factors ratings into their rankings, too, and one may assume that some of the best businesses in a local area may not be appearing in Google Maps search results.
If you are one of the small businesses who desires presence in Google Maps without listing your actual street address, I'd recommend that you get your mailbox service at a UPS Store, since it will allow you to use a full street address instead of just a PO box.
Comments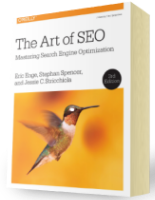 Chapter 7:
Content Marketing
From the fundamentals of link building to the nuances of natural linking patterns, virality, and authority.
Get Free Chapter