How to find your PageRank score
Q. : If you want to use the Google Directory to find out your PageRank score, how do you know what category Google has put you in to start this process?
A: Simply start at the Google Directory home page at http://directory.google.com and conduct a search for your company name or brand name. If you are listed in the Directory, you'll see the Category youâ??re listed in as part of your search listing. Click on that category name to go directly to that category page of the Directory.
Comments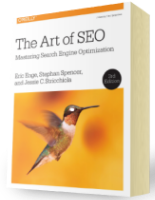 Chapter 7:
Content Marketing
From the fundamentals of link building to the nuances of natural linking patterns, virality, and authority.
Get Free Chapter