Case Study: Homestead.com
Homestead.com is more than your typical web hosting company. They have a WYSIWYG tool for constructing the website as well. It is an all-in-one solution. The company hosts over 12 million members who use their service
Challenge:
Homestead.com had no visibility in Google or Yahoo! in the natural unpaid search results for search terms like "web hosting", "website hosting", or "web site hosting". Homestead recognized that the traffic and sign-ups coming through search engines were nowhere near what they should be or could be. They approached Netconcepts after attending a session given by our President, Stephan Spencer, at Internet World in 2003.
There were several key constraints that Netconcepts and Homestead had to work within. First, the website was encapsulated within their Site Builder software platform and they wished to continue using this platform, one we were unfamiliar with. Second, they wanted their internal IT team to do all of the implementation work, so we had to do a complete 'knowledge transfer' (think: Vulcan mind meld) to a team of very competent technologists who, although very savvy with web technologies, were not up to speed with the latest search engine optimization best practices. Third, no significant changes to the look of the home page were allowed, at least not at this early stage. This was a tough constraint for us to work within, as their home page had very little room for content. Home pages with much more content have a distinct advantage in the search engines. So, not being allowed to add much content to the home page nearly hamstrung us.
Homestead recognized that web hosting was one of the most competitive markets as far as search engine marketing was concerned. It was going to be hard work to get on to page 1 when there were 12 million other pages in the search results to compete with.
There were already competitors to Homestead who were old pros when it came to search engine optimisation and to pay-per-click. Trumping them would be no small matter. Indeed some of the bigger players in the hosting business were willing to pay unsustainable sums of money to attain top rankings (for example, as much as $10-12 per click for visibility in the paid search results).
Homestead's site was in frames, which posed a real problem considering the degree to which search engines have problems with framed websites. Indeed Google cautions against the use of frames on their Information for Webmasters page, stating "Google supports frames to the extent that it can."
Solution:
The engagement with Netconcepts involved an in-depth search engine findability audit that included strengths, weaknesses, missed opportunities and recommendations in areas covering URL structure, content, HTML, internal linking structure, and analysis of keyword markets.
We prepared a 50-page audit document that also took into account: usability, design, style, accessibility, and other core issues that contribute to a website's commercial success.
We then presented our audit findings, conducted a training intensive with their IT and marketing teams, and then returned for a second training intensive later that month.
This was followed by six months of ongoing support, where we guided them through the process of implementation.
The Stage 1 mild re-design of their site still used frames, and shortly after the six-month engagement, they launched a larger scale re-design of their site that was, thankfully, frame-free.
Before

After

Results:
Within eight weeks of the launch of their mild re-design they were on page 1 for "website hosting" in Google.
With our audit as a blueprint, later that year Homestead launched an internally built complete site re-design which landed them the #1 Google position for "website hosting," which they have since sustained almost continuously over the course of the past 12 months. Not bad, considering very little additional SEO work has been rolled out on the site since early 2004.
Ken Chen, Marketing Director of Homestead states: "We are an internet company and there was considerable resistance in hiring Netconcepts. Some here felt that they knew everything there was to know about Search Engines. But, the fact is that the Search Engine industry is changing so quickly and is growing so quickly that a company like ours cannot possibly stay on top of it all. Netconcepts did an excellent job of training us on what is really critical in the world of search engine optimization. They have a great framework and philosophy about what works that is very much in line with how Google and the others are thinking. We paid for their expertise in an area where we didn't realize we needed help. And, they delivered great recommendations and we saw immediate results. From my point of view, it's been a great investment."
Comments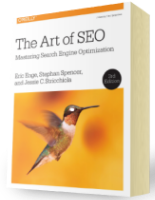 Chapter 7:
Content Marketing
From the fundamentals of link building to the nuances of natural linking patterns, virality, and authority.
Get Free Chapter