10 Tips to Help Your Blog Soar in the Search Engines (Part 2 of 2)
In part 1 of this article, we discussed how important links are to the SEO equation and why blogs are favored by the major search engines. Then we looked at some useful tips about optimizing your blog for search engines, including tweaking your title tags, streamlining your URLs, tagging your posts, and offering links to related posts and to your most popular posts.
Here we look at five more tips to get your blog to the top of the search results.
Tip #6: Anchor Text
This one's so basic, yet so critical, to SEO success: Make sure that within your blog template you link to the blog post's permalink URL from the title of the post. That will provide you with much better (contextual) anchor text than the word "permalink" will.
What's wrong with the word "permalink"? Nothing, if that's the word you want to rank No. 1 for in the search engines!
The only thing worse than the anchor text of "Permalink" is "Click here." (Unless of course you wish to rank tops in the search engines for "click here"!) Your anchor text (AKA link text), should contain keywords relevant to your business. The search engines associate those underlined words with the page that you're linking to.
I'm not suggesting you remove all mentions of the word "permalink" from your blog. Rather, I'm suggesting that you augment those keyword-anemic links with keyword-rich text links. On my blog, I have two links to the permalink URL: one from the post's title, the other at the end of the post where it says "Permalink". (I'm presuming here that you're already putting good keywords in the titles of your blog posts since that was the topic of my Tip #1.)
Also, when writing your blog posts, look for opportunities to refer to and link to previous posts or related content that you've got up on the Web. And, of course, put some thought into the anchor text you use when linking to this related content.
While you're at it, you might as well go the extra mile and think up good anchor text when referencing customers, friends, colleagues, and business partners in your blog as well. They'll appreciate it, and it's good karma!
Tip #7: 'Sticky' Posts
A "sticky" post is one that always appears at the top regardless of the date/time posted. The "sticky" feature is available in some blog systems by default (e.g., Blogger.com) and in others through the use of a plugin (e.g., the Adhesive plugin for WordPress).
Why would you ever want to make a post sticky? Because it's an easy way to improve the keyword prominence on a category page or tag page. If you're not familiar with the concept of keyword prominence, it's simply this: The higher up on the page your targeted keyword is, the better you'll rank. So having keyword-rich intro copy that consistently appears at the top of a category page or a tag page will give you good keyword prominence and help you maintain a stable keyword theme for the page, even when old posts fall off the page and new posts appear.
You can achieve this with a blog post containing your desired keyword-rich intro copy, categorizing/tagging it so that it appears on the desired page and making the post "sticky" so that it stays on the top of the tag page. Back-date the post so it doesn't appear on the top of your home page, just on the appropriate category or tag page.
With the Adhesive plugin, you should select the "Show Sticky Posts Only on Category Pages" option in the configuration settings to ensure that they never appear on the home page. If you're also using UltimateTagWarrior to create tag pages, you'll need to edit the following line (which appears twice) in the Adhesive plugin…
from:
if(!adhesive_get_options('category_only') || is_category())
to:
if(!adhesive_get_options('category_only') || is_category() || is_tag())
If you aren't able to make posts sticky for whatever reason, then a kludge to still get the desired effect would be to put your intro copy directly into your template/theme and use a series of if/then statements to determine which copy to display based on which category/tag is active.
Tip #8: Heading Tags
Heading tags (H1 through to H6) are given more weight by search engines than regular body copy. So they should be used wisely to reinforce the page's overall keyword theme.
The posting date should never be within an H1 tag, because you're NOT trying to rank well in the engines for a date. Instead, wrap an H1 tag around your category name or tag name on your category page or tag page, respectively.
Then make the titles of your blog posts H2 tags, so that on a category or tag page the category/tag words can be the only H1 on the page and thus can convey greater emphasis than the post titles.
You could even take this idea a step further and make the post title display within an H1 tag if it's a Sticky post, and within an H2 if a normal post.
Tip #9: Emphasis Within Your Posts
Using bold, strong, or emphasis tags within the body copy of your blog posts will help identify to search engines like Yahoo which words/phrases should be given more weight.
Feel free to emphasize multiple phrases in your copy. Even make use of Heading tags if your post is particularly long. Just don't overdue it. If it seems overoptimized when you read it, then it is!
Tip #10 (for Multi-Author Blogs): Pages and Links for the Authors
If you've got a multi-author blog and those bloggers have their own independent Web sites, they'll probably want and appreciate getting links from you.
Include links to all your author's Web sites in your sidebar rather than at the bottom of your page, because footer links don't get as much weight by the search engines. Or, better yet, only include your list of author links from the homepage rather than making it a site-wide link, which will also get partially discounted by the search engines.
Within every post that they author, include a link to their site. That will motivate them to post more often.
Also include with each post a link to their profile page (hosted on your blog). Each author profile page should contain a link to that author's site, a biographical statement (taken from the "About Yourself" field in their profile, for instance), and the posts that they've authored. You can see my profile page on BusinessBlogConsulting.com, for example, at http://www.businessblogconsulting.com/author/stephan-spencer/.
Let the authors define the anchor text of the link to their site, since anchor text is such an important element for SEO (see Tip #6, above). The way I did it for BusinessBlogConsulting.com, which runs on WordPress, was this: I had the authors specify the anchor text they wanted in the Nickname field on their edit profile page and I used that instead of their name.
In Summary
Search engines love blogs. Right out of the gate your blog has an advantage in the search engines over traditional websites. But don't rest on your laurels; you must fine-tune your blog using the 10 tactics discussed in order to maximize the search engine opportunity. Good luck! I expect to see you up there real soon.
Comments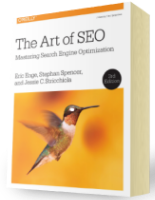 Chapter 7:
Content Marketing
From the fundamentals of link building to the nuances of natural linking patterns, virality, and authority.
Get Free Chapter