Case Study: Guild.com
Guild is the leading direct marketer of home furnishings and gifts created by artists. A small Madison, Wisconsin-based art cataloger, Guild is recognized as a notable ecommerce player, having raised $40 million in venture capital in the heady dot-com era, then sold to Ashford.com, only to be bought out again by its founder Toni Sikes, current CEO.
During the five-year dot-com ride, Guild has bit on multiple SEO attempts, but like many, found results to be inconsistent with the promise and sales hype. While they had primarily sold through catalogs and to trade, the web offered the greatest opportunity to expand their business.
Problem:
Guild wasn't experiencing the kind of growth they had hoped for. Online partnerships with AOL and Yahoo! had ended and the customer was becoming more price sensitive. As President Mike Baum put it "we needed to capitalize on the growth areas."
Guild knew that it needed to get more visibility among its potential customers. After trying many lackluster SEO vendors and approaches, Guild partnered with Netconcepts in April 2004 to once-and-for-all fix what was wrong with their ecommerce site, in Google's eyes.
"When Netconcepts approached us, previously next door neighbors back in the early days of the Net, they pointed out how our site had many structural issues preventing good Google rankings. When they started showing us real life examples of top ranked Google listings for random inquiries, we gained confidence in what they were proposing, and decided it would be worth partnering."
Solution:
Guild contracted Netconcepts to audit their web site and then to implement a site-wide search engine optimization program. Toni Sikes explained that "Working with Netconcepts, we've come to understand that SEO is not an quick fix, but a big, worthwhile effort that requires experts to coordinate each stakeholder group's work. We invested hundreds of precious IT and marketing hours over the course of many months. Through that whole time, Netconcepts delivered exceptional communication and leadership. We trusted them to get us to where we wanted to go and produce a return on investment, and we weren't disappointed."
Netconcepts spent time with Guild's technical team to kick off the engagement, focusing on the webserver setup and any technical constraints in rewriting their URLs to be search engine spider friendly. Further time was spent coaching the executive team on all aspects of search optimization, including strategy, tactics, and work to be done by each party in order to make all the necessary changes for Google.
After careful site analysis several changes were suggested. Some of these changes included simplifying URL structure, changing text locked up in graphics to text within HTML, removing superfluous HTML code, adding keyword-rich copy to a large number of category and landing pages, changing terminology (e.g. "glass" to "art glass"), and revising copy, HTML, and links to target newly identified keyword markets. Toni Sikes, Guild.com's CEO, recalled that "we worked very closely with Netconcepts and they came in and consulted with our team, teaching us the skills to maintain our site ourselves."
Results:
Four weeks into the project, with some minor initial changes, sales were already up 41% with the "big bang" still to come.
Positive results from optimization came quickly. President Mike Baum reports that within a few months Google-specific traffic growing from 5% to 40% of total website traffic. What's more, the number of pages of Guild.com in Google's index tripled, to over 10,000 new pages indexed within a few months. In addition, 30,000+ lines of superfluous HTML code were removed, resulting in not just improved rankings (due to the improved keyword prominence of having the keyword-rich copy higher up in the page in the HTML), but also easier indexing with less server load. 2004 was a year of record traffic for Guild, something they directly attribute to SEO and the work of Netconcepts.
Google rankings currently include #3 and #4 for "glass vases", #1 and #2 for "glass bowls"," and #1 and #2 for "glass pitchers". Glassware, by the way, is one of Guild's top sellers, and is also high margin.
Netconcepts' focus on collaborative problem solving and education "was of enormous help to us", said Toni. "We definitely plan to employ Netconcepts again in the future. Guild was particularly impressed with Netconcepts' willingness to share knowledge and empower Guild workers with the skills needed continue optimized development of the website."
Comments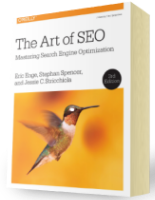 Chapter 7:
Content Marketing
From the fundamentals of link building to the nuances of natural linking patterns, virality, and authority.
Get Free Chapter