Unlocking Google's Hidden Potential
With well over 8 billion documents in its index, Google is a veritable treasure trove of information. Yet finding just the right document out of those billions â??- the one that answers your question â?? can be daunting.
Stephan Spencer, founder and president of Netconcepts, has written a new ebook on how to become a Google power-searcher. This guide is a must-have for anyone who uses Google; and best of all, it's FREE to download.
The ebook is based on the 5 part article series published by MarketingProfs in August 2004, fully updated in the First Quarter of 2006.
Were you to master Google's powerful search refinement operators and lesser-known features, over a year's time you could save days scouring over irrelevant results. Perhaps even more enticing is the promise of elusive nuggets of market research and competitive intelligence out there waiting to be discovered. This ebook will show you how to find what you need quickly and with laser-like accuracy.
The ebook includes interviews with leading search experts Nancy Blachman, creator of GoogleGuide.com and author of How To Do Everything With Google, and Tara Calashain, author of the Web Search Garage, co-author of Google Hacks, and creator of the ResearchBuzz web site.
You will need to have Adobe Acrobat Reader installed to view this document. To save the ebook on your computer, right-click the link below and select 'Save Target As' and then chose a location on your hard drive to save it.
Comments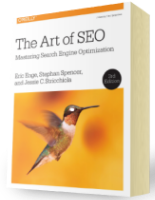 Chapter 7:
Content Marketing
From the fundamentals of link building to the nuances of natural linking patterns, virality, and authority.
Get Free Chapter