Frequency of Open Directory submissions
Q: Is once a month too often to resubmit your site to Open Directory)?
A: Yes. Resubmitting will probably only hurt your chances of getting your listing approved. If it's been a while and you're getting worried, first check for discussion of your submission at the DMOZ Resource Zone (http://www.resource-zone.com). If several months have passed, then consider politely emailing the editor of the category you submitted to (check the bottom of the relevant category page in the Google Directory for a link to the editor's profile).
Comments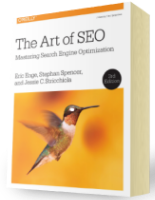 Chapter 7:
Content Marketing
From the fundamentals of link building to the nuances of natural linking patterns, virality, and authority.
Get Free Chapter