Forget babysitting and paper routes, teen turns to SEO
Ever wonder whether or not it's possible to make money blogging? Well, this teen has made blogging for dollars a reality. Stephan covers his daughter Chloe's presentation at the 2007 BlogHer conference in Chicago. In this popular article, featured on C|Net's Searchlight: An SEO Blog, Stephan talks about Chloe's experiences with WordPress, her love for Neopets, and what it takes to turn a blog into an asset. You can also watch the highlights from Chloe's presentation in his article as well. To read more about how "SEO is not inaccessible; in fact, it's so easy, that a child can do it!" click here.
Comments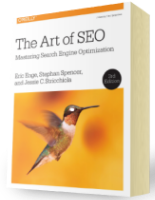 Chapter 7:
Content Marketing
From the fundamentals of link building to the nuances of natural linking patterns, virality, and authority.
Get Free Chapter