Case Study: figleaves.com
figleaves.com, is the global leader of multi-brand intimate apparel etailers. The figleaves.com website features 250 brands and more than 30,000 items of lingerie, swimwear, sleepwear, activewear, menswear and hosiery. Brands range from designers such as La Perla and Andres Sarda to basic Playtex and Wacoal. Additionally, figleaves.com provides quality service to over 70 countries worldwide.
Challenge:
After establishing a headquarters in the United States, figleaves.com came to the realization that if they wanted to compete in the global market, they would need an expert SEO company. They had already engaged another search marketing company to help them with aspects of SEO, but figleaves.com wasn't reaping the benefits that they expected and were starting to experience a decline in natural search traffic. figleaves.com was seeing moderate traffic for a variety of keywords but not seeing the natural search conversion they expected. They wanted to increase natural search traffic to the most relevant pages without making visitors dig through pages of results.
Solution:
Knowing the reputation of Netconcepts and the work of their president, Stephan Spencer, figleaves.com chose to consult with Netconcepts to complete a Natural Search Audit of their E-Commerce site. "Netconcepts' audit process showed us all the areas of our site that needed attention, and helped us understand how to prioritize them to achieve a search optimized site," stated Richard Brooks, Search Manager at figleaves.com. Netconcepts prescribed an initial focus on resolving structural barriers like URL structure, linking, and navigation before moving on to content optimization and other SEO tactics. "Netconcepts really helped us to clarify what our priorities should be," stated Richard Brooks. "Netconcepts' expert analysis and prioritization of our SEO issues helped us rally the support we needed in our organization to make some real SEO progress."
Results:
Netconcepts provided the SEO methodology and program structure figleaves.com lacked internally to fully capitalize on their natural search potential. Within the first months of implementing Netconcepts' recommendations, figleaves.com had already experienced a 40% increase in their natural search traffic. "We now rank on page one on Google for three of our most important keywords: "swimwear," "underwear," and "bras," stated Richard Brooks. One of the most important influences in increasing rankings is the acquisition of back-links. Already, figleaves.com has more than doubled their number of back-links. Indexation alone has risen over 15% across Google, Yahoo, and MSN to top 300,000. Ed Bussey, Senior Vice President and Head of figleaves.com US had this to say, "We got great buy-in during our discussions and have seen great results from your recommendations. When we want to improve our SEO strategy further, we will come back to Netconcepts."
Comments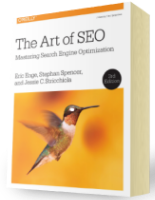 Chapter 7:
Content Marketing
From the fundamentals of link building to the nuances of natural linking patterns, virality, and authority.
Get Free Chapter