Favicon and Robots.txt – Must-Haves for your Blog
I heard at the Search Engine Strategies conference earlier this month in Chicago that the Ask Jeeves spider doesn't cope well with websites that don't have robots.txt. So if you don't have a robots.txt file hosted on your blog's document root, create a blank one.
Another detail often missed by bloggers is to create your own custom favicon.ico file. The favicon is a little 16 pixel by 16 pixel image that appears in the location bar on people's web browsers; many of the RSS readers use it as well. Peter Brady at Performancing has some interesting things to say about whether or not bloggers need to have a favicon. My take on it is this: with a custom favicon, you look cooler and more with it, plus it differentiates you from the rest of the pack in your subscribers' RSS subscription lists. If you don't have time to mess around creating one in Photoshop, you can do a quick and dirty one pretty easily using the free web-based tool Favicon Generator. It took me all of two minutes to create my favicon for my blog using this tool.
Comments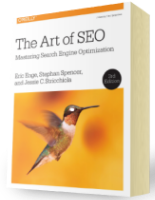 Chapter 7:
Content Marketing
From the fundamentals of link building to the nuances of natural linking patterns, virality, and authority.
Get Free Chapter