Do you have any suggestions for increasing the number of links to your site?
If you want people to link to your site, you need to give them a reason to link to you. That means creating amazing content (linkbait), mentioning their name or brand (egobait), or giving them something useful like an infographic. Once you have something noteworthy, start an outreach campaign to tell people about it.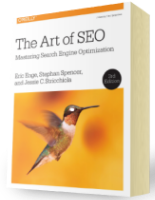 Chapter 7:
Content Marketing
From the fundamentals of link building to the nuances of natural linking patterns, virality, and authority.
Get Free Chapter