Embrace and extend, courtesy of Yahoo's Creative Commons Search
Yahoo's just released a very cool new search engine called Yahoo! Creative Commons Search. With it you can search all the Creative Commons licenced content on the web. For those not familiar with Creative Commons, I've blogged about it before. In summary, it is an alternative to copyright, where some rights are reserved by the author, but not all. It's as quick and painless as can be for the author: you simply fill out this form that specifies how you want your material used out in the marketplace and the license is generated to place on your site. For example, your license can require attribution, restrict to only noncommercial use, allow for the creation of derivative works, etc.
There is a wealth of content out there under a liberal Creative Commons licence that will allow you to reuse and repurpose that content in your own projects. But finding that content used to be hard work. (Actually there was previously another way to search, but it wasn't as comprehensive, and it wasn't from a major search engine). Now it's just a search query away, thanks to Yahoo!
I can hear you asking yourself: "That's all fine and good, but what use will I have with it?" Here are a few ideas to get your creative juices flowing:
Collect interesting articles on a particular topic from different authors, write your own overview/summary to go with it, then assemble it all into an ebook and offer it on your site as a free download.
Take information relating to a particular company that you would like to land as a customer and arrange it into a scrapbook, then post it on your blog and ask readers to contribute to it further. Hopefully the prospective customer will take notice of your initiative and of your interest in them. If not, bring it to their attention. (What a great, new spin on the standard "cold call"!)
Augment your articles, white papers, etc. with excerpted content relevant to the topic you're covering. For example, if you wrote a white paper about "How Google Works," add Creative Commons-licensed photos and text descriptions describing their data centers.
Identify keywords that you want to rank well for and create a mini library of Creative Commons-licensed content about that keyword.
These are just a few ideas, and of course you have to abide by the terms of each content-owner's license. Idea #4, for example, would be considered commercial use if that library of pages were serving as landing pages to get searchers who find you to buy something. IMPORTANT: Don't just assume that because it showed up in the search results, it's licensed under Creative Commons. Some plain ol' copyrighted material will have undoubtedly snuck into the index. No search engine is 100% perfect. I didn't have time to test it out much myself, but it seems to pass muster with Tara at ResearchBuzz, so it must be pretty good!
An insightful reader on Slashdot commented that it would be brilliant if Yahoo! took the next step and launched a Bittorrent tracker that was limited to Creative Commons licensed content, with a centralized directory-style index. Bittorrent, if you aren't familiar with it, offers super-fast de-centralized file sharing on a file-by-file basis. It can be used to download legitimate files, like a trial version of a software program or music under a Creative Commons license. To get started, you need to have the Bittorrent software installed on your computer, and you'll need to have somehow obtained a Torrent file for a particular big file that you want. This Torrent file is tiny, and it contains information about how to connect with others who have parts of the file you want. But where do you find these Torrent files? That's where a tracker comes in. More on Bittorent later, in a separate post.
With that, I'll let you get on with using this new Yahoo! engine to "embrace and extend" to your heart's content.
Oh, by the way… If you want to learn more the fascinating story of copyright law (no, I'm not kidding! The way Larry Lessig tells it, it really IS interesting!), check out Larry Lessig's speech at OSCON, with audio syncronized with his Powerpoint slides. Larry is the brains behind the Creative Commons and an overall brilliant lawyer/author/blogger/Stanford professor.
Comments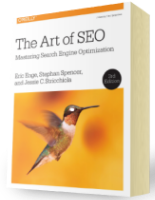 Chapter 7:
Content Marketing
From the fundamentals of link building to the nuances of natural linking patterns, virality, and authority.
Get Free Chapter