Mining for Sales in the E-mail Minefield
E-mail is one of the most important and effective tools in an Internet marketing campaign, but it will only work if it's done right. And doing it right isn't easy–e-mail marketing can yield spectacular successes, but companies must be extremely careful about how they do it.
Marketing by e-mail can attract new customers, keep existing ones, upsell, cross-sell, and cut costs. E-merchant Wine.com, for example, found e-mail campaigns drove twice as many "best prospects" to their site compared to banner ads or other Internet marketing programs.
If executed improperly though, e-mail campaigns can backfire with disastrous business consequences. How to minimize the risk and maximize the return?
Part of the answer is a common sense approach called "permission" or "opt-in" marketing, in which customers or prospects volunteer to receive e-mail. Such "hand-raisers" are much more likely to respond favorably.
Don't use the "opt-out" approach, in which recipients can avoid messages subsequent to an initial unsolicited e-mail. Respect recipient boundaries by using the opt-in method. Also avoid purchased lists, many of which are "harvested" without permission from websites, newsgroup discussion posts, or domain contact information (the "whois" database).
Rented lists from reputable list brokers, however, may be worthwhile if the lists are "double opt-in," free of unsubscribes and finely segmented.
The odds of users joining a list can be improved by providing three opt-in opportunities, all with low entry barriers. First, there should be minimal sign-up work. Many sites require only an e-mail address; all other personal information is optional. Second, there should be several sign-up opportunities on a site, including on the inquiry, order, and feedback forms. These forms may use a checkbox asking prospects if they would like to receive occasional special offers/newsletters by e-mail. If so, it must be placed conspicuously on the form. Third, a privacy policy that addresses what will be done with user information should be posted in an obvious place.
Companies must then ensure that their outbound solicited e-mail messages are not misconstrued as being "spam," which typically has false sender information, false unsubscribe instructions, and false offers. Sign e-mail with real contact information, make sure the "Reply" feature works, remind recipients that contact with them is by their permission, and provide an easy way to unsubscribe.
Avoiding spam issues is crucial–there are harsh penalties for "spammers," including online advertiser blacklisting and ISP revocation.
To learn more about permission marketing, an excellent primer is Permission Marketing: Turning Strangers into Friends, and Friends into Customers by Seth Godin.
Positive reaction tactics
For an e-mail offer to be considered valuable, it should be relevant, timely, and beneficial to the recipient. "Value" can take the form of newsletters, discounts, contests, last minute availability, event reminders, prizes, memberships, bonuses, coupons, free samples, or demos. Generally, outbound e-mail can be categorized into three major groups: newsletters, promotional messages, and discussion forum posts.
E-mail newsletters are regularly scheduled messages that deliver timely and interesting news, tips, and other informational tidbits. Promotional messages inform recipients about special offers. Postings to online discussion forums, e-mail lists and Usenet newsgroups are a soft-sell marketing strategy for becoming an accepted and trusted member of the target audience online community. Discussion groups are an often overlooked but potentially important form of e-mail marketing. The key to effective e-mail discussion forum marketing is to respect the non-commercial nature of the forum. Rather than advertising blatantly, companies should add value by answering questions in a vendor-neutral manner, then soft-sell products and services solely through a short "signature" at the bottom of the message.
Delivering value
It's not just the value proposition that's important — presentation matters, too. Recipients don't read e-mail, they scan it, and writing techniques for e-mail differ vastly from other prose techniques. Be concise. Use links. HTML, rather than plain text, allows better control over the layout and placement of text and links, and allows incorporation of graphics into the message, which in turn leads to higher response rates. It's not unusual, in fact, for HTML e-mail to more than double the response rate of plain text e-mail.
The downside to using HTML, however, is that some recipients have old, non HTML-capable e-mail software. One workaround is to automatically "sniff" for HTML display capability, by embedding a small, uniquely named graphic in the HTML e-mail that, when downloading, registers in server logs that the recipient can view HTML. Another workaround is to send both HTML and plaintext versions in the same message as "multi-part".
Sending HTML e-mail, plain text e-mail, or both requires designing a template–a structure, a look and feel, into which the message content will fit. When using HTML and graphics, make sure the graphics download very quickly. If the message is plain text, limit the line width to 65 characters. An e-mail newsletter should contain a header, a table of contents, a welcome, multiple departments, a privacy statement, a disclaimer, and unsubscribe instructions.
"A weekly e-mail newsletter should be no more than five sections, with three or fewer paragraphs each," says Shannon Kinnard, author of Marketing With E-Mail. "A monthly newsletter can be double or triple that. A promotional e-mail, however, should be significantly shorter than that."
The next step is to tailor the offer to the individual. Beneficial offers and relevant offers go hand-in-hand; it's difficult to have one without the other. Ask for zip codes, interests, and other relevant demographics on the opt-in form, and use that information to provide customized content specific to recipient location and interests. Further, let them control the contact frequency and e-mail format (HTML or plain text).
The recipient typically makes a split-second decision when first viewing an e-mail: Keep it or delete it. Putting the recipients in the driver's seat and letting them dictate the terms and content of e-mail contact increases the likelihood of being at the right place at the right time with the right value proposition.
Test/measure everything
Testing is another element essential for maximizing response rates. Test the offer, the "Subject" line, the "From" line, the message copy, the layout, the message length, the timing, and the contact frequency. Set up a control group, and then set up experimental groups.
Track the response rates of each test by making the call-to-action URLs and e-mail addresses unique for each test group. Special attention should be given to the frequency–don't allow recipient burnout, particularly with a regular mailing such as an e-mail newsletter. Test everything, and refine continually.
In measuring success, e-mail marketers use a number of different metrics, including unsubscribes, bounces, opened messages, and clickthroughs (as percentages). Consider measurement a three-step process. First, catalog who received and opened the messages, subtracting the bounced messages. When sending HTML e-mail, embedded code in the HTML can be used to count recipients viewing the message. Second, measure clickthroughs, or the number of times recipients have clicked on a link within the call-to-action. Third, measure the conversion rate–the number of recipients who were actually converted into trial users or customers. This is the most challenging metric to track, but it's also the most meaningful.
Fortunately, a number of tools and services can reduce the administrative headaches–the bounces and unsubscribe requests, the reports, e-mailing selected list segments, and personalization of message content. On a tight budget, do-it-yourself software such as WorldMerge (www.coloradosoft.com) is an effective option. Those with larger budgets who would prefer to outsource all the administrative work may consider e-mail service bureaus, such as GravityMail (www.gravitymail.com), Digital Impact (www.digital-impact.com), MessageMedia (www.messagemedia.com), GuestTrack (www.guesttrack.com), DirectMedia (www.directmedia.com), or 24/7 Exactis (www.exactis.com).
About the Author
Stephan Spencer is the founder and president of Netconcepts, a website development company. He is a frequent speaker at Internet conferences worldwide. He may be reached via e-mail at [email protected].
Comments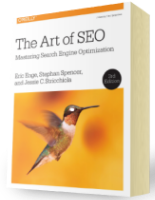 Chapter 7:
Content Marketing
From the fundamentals of link building to the nuances of natural linking patterns, virality, and authority.
Get Free Chapter