Ecommerce Facebook Applications
Facebook.com â?? a company that less than a year ago looked like fools for not accepting Yahooâ??s bid to purchase it â?? has become the powerhouse of social media websites. Itâ??s been said that much of the success is due simply to Facebook being the latest in a string of recently-hip online socialization sites, with MySpace being the last destination to peek out and then slow as the â??true hipstersâ?? move on, drawing the semi-hip behind them. A large part of that rise, however, has been Facebookâ??s open source policy with regard to the creation of Facebook applications. The result has been twofold: A huge demand for fun and informative applications and the corresponding, explosive proliferation of applications created for the site.
A Facebook application (or â??appâ?? for short) is simply a small program that can be placed on a userâ??s site to lend some form of added functionality to the generic interface. Applications are popular because individual users can customize pages to their needs and desires. One of the more interesting recent apps, for example, is the Zombies app wherein users bite their friends, who then also become zombies if, of course, they add the app to their page. Itâ??s fun, simple, viral and monetized by horror movie advertisements in the app interface.
Ecommerce sites have had varying degrees of success with these applications, correlated directly to how useful or fun the apps are. These small programs need to have viral attributes â?? those hard-to-define qualities that make users want to add the app to their page and share it with their friends. BlueNile.com has created the â??Blue Nile Wish Listâ?? app, which keeps friends informed about what jewelry an individual would like to purchase (or have gifted!) from the site. Buy.com has created the â??Garage Saleâ?? app, which ties the sale of used merchandise into their system. Rather than use branded Buy.com elements, the interface looks like a generic garage sale sign easily purchased at any hardware store, and the connection to Buy.com isnâ??t immediately apparent. Itâ??s just a little olâ?? online rummage sale! And therein lies its charm.
So, what exactly does it take to create a Facebook app? A knowledgeable programmer is one way (and they really need to know the Facebook coding parameters), and if you have one available to you it shouldnâ??t be a time-consuming project. Short of a good programmer, there are services like Clearspring.com. This companyâ??s software can take just about anything â?? a small Flash program, animated gif, or even a static graphic â?? and wrap the proper code around it to make it a Facebook-ready application. And, their basic services are free. If multiple apps are in your future, consider their paid programs.
Creating an application that goes viral, of course, is the key and the hardest part. One tool many application developers are referencing is Adonomics.com, a site that tracks Facebook apps like a stock market. At the site, all the hottest apps are listed with many statistics about their growth popularity including graphs on daily active users, total number of users, ranking, related applications and links to the apps themselves. It makes for an ideal Facebook application research tool; identifying trends in either the design or concept of these apps allows both marketing departments and app developers to spot certain successful elements that can be applied to their own applications.
Creating a Facebook app doesnâ??t have to be expensive or intensive, and ecommerce sites would be remiss not to create at least one. Facebook makes it very easy to get an app up on its site because it wants as many apps as possible. Creating one that will be popular and go viral is the challenge for everyone, but there are research tools to help in that regard. If you donâ??t have the staff to develop an application from the ground up, there are white label opportunities out there that will take even a remedial design and wrap it in the code needed to get it live. My advice: Come up with your viral angle, keep it simple and put it together!Ye
Comments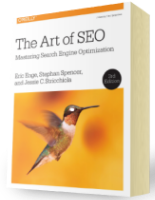 Chapter 7:
Content Marketing
From the fundamentals of link building to the nuances of natural linking patterns, virality, and authority.
Get Free Chapter