Searching for the Secret to Search Engines
In an interview with the Dominion Post, Netconcepts president Stephan Spencer highlighted his company's GravityStream software that creates "a real-time optimised mirror of a company's website". According to the Dominion Post, this technology "lets the client keep their ranking up without changing their web content when the site is first optimised".
"The technology allows us to do something none of our competitors can do," Stephan Spencer said.
He also highlighted the importance of content, even in the URLs, and making it relevant to customers, for example a website selling baby products could also feature a section on baby names, as parents searching for names will also be interested in products.
Comments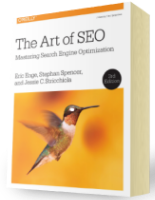 Chapter 7:
Content Marketing
From the fundamentals of link building to the nuances of natural linking patterns, virality, and authority.
Get Free Chapter