DM News blog
DM News is a well-respected trade magazine for direct, online, and database marketers. Their blog provides their journalists with a place to record observations, to opine, to let their hair down and to write more informally and about more obscure topics. Not everything warrants coverage in print, but some things definitely warrant a blog mention. The DM News Blog gives readers a much better sense for the people behind DM News, who they are, and what interests them. In other words, it's an inside view into the DM News newsroom.
Of course, as a group blog, the blogging system supports multiple authors. It includes an RSS feed. Since DM News' staffers go to plenty of conferences and trade shows, it's not surprising that they blog frequently about what is happening at these shows; therefore a separate subcategory is dedicated to each of the major shows that DM News attends.
DM News, welcome to the blogosphere! Glad that Netconcepts could help you get there.
[ database | client admin cms | SEO ]
Visit The Site: DM News Blog
Further Reading: DM News
Comments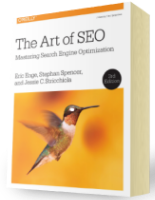 Chapter 7:
Content Marketing
From the fundamentals of link building to the nuances of natural linking patterns, virality, and authority.
Get Free Chapter