Benefits far outweigh cost for this fashion brand
"I attended a workshop by Stephan Spencer of Netconcepts on website auditing at the Beauty Online conference. The workshop was comprehensive and illuminating. I was very impressed.
I invited Stephan to our offices in New York to critique the e-commerce shop-in-shop that I have been in charge of developing. The advice was very valuable and covered many things that we were not aware of or had not considered.
I highly recommend to undertake a website audit from Netconcepts. The cost of these studies is not high in comparison to the benefits.
Stephan Spencer is very knowledgeable and an expert in the field. If you decide to meet with him, you will not be disappointed."
Gilles Kortzagadarian
Manager of E-commerce and Direct Marketing
Christian Dior Perfumes, Inc.
Comments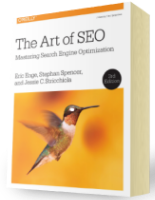 Chapter 7:
Content Marketing
From the fundamentals of link building to the nuances of natural linking patterns, virality, and authority.
Get Free Chapter