Content and links in Flash
Q: If we are using flash on the home page with very little content, can we include relevant content and links below the fold and will this help in search results?
A: Yes, it will help to some extent. Certainly that is better than not doing so. But it may not look that great to the user if s/he does scroll below the fold (i.e. it's not the best user experience to repeat yourself). Better to remove content and links from Flash altogether.
Comments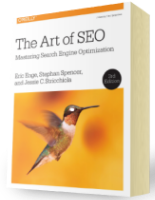 Chapter 7:
Content Marketing
From the fundamentals of link building to the nuances of natural linking patterns, virality, and authority.
Get Free Chapter