Contagious Communications
Ever wondered how late entrant Google overtook its entrenched competitors to become the most popular search engine on the planet? Or how a small upstart called Hotmail became the leader in web-based email and was then purchased by Microsoft for a cool $US400 million? Or how "rate strangers on their looks" web site HotOrNot.com came out of nowhere to become one of the top 50 most popular sites on the net?
No, not colossal advertising budgets, but viral marketing: a great (or, in the case of HotOrNot, a silly but highly contagious) idea that aficionados simply had to tell their friends about, and those friends in turn told other friends. But triggering a word-of-mouth epidemic isn't as easy as it may seem.
Earlier this year, the Auckland chapter of Sales and Marketing Executives International (www.smei.co.nz) experimented with its first viral marketing campaign to promote workshops by an internationally renowned guerrilla-marketing guru – with only moderate success.
However, there are some ways to improve your chances:
Target those sympathetic to your cause. For example, a current BMW owner is much more likely to be a BMW evangelist than a Ford owner is.
Like-minded people hang out together. If you want more affluent customers, go after your existing affluent customers: they mix in the same circles. Target the "connectors" — those people who seem to know everybody.
Reward those who spread the word. Don't insist that a referrer's friend become a customer in order for an incentive to be earned. The incentive doesn't have to be expensive – a golfer would value golf balls with their name printed on them, for example.
Make it easy and obvious for people to "pass it on". Ask the recipients of your email newsletter to forward it to anyone they think may be interested. On your web site, include a "Tell a Friend" or "Email this page to a friend" button that sends articles, reviews, product info or anything else of potential interest. Consider offering a fill-in form where a visitor could send something valuable to a number of friends at once (see the "Send It" page on www.ideavirus.com as an example).
Asking people to forward messages should not be a blatant, in-your-face demand but an informal invitation, and it should not smack of commercialism or spam. A good offline example would be a book that includes a blank postcard with a funny cartoon referencing the book and its topic.
Seth Godin's Unleashing the Ideavirus, Malcolm Gladwell's The Tipping Point and business consultant Paul Watkins's web site (www.paulwatkins.co.nz) are invaluable sources of tips. Check them out for more viral marketing ideas. Interestingly, Godin took a leaf out of his own book, employing viral marketing to make Unleashing the Ideavirus the most downloaded e-book in history.
Stephan Spencer is founder/president of Netconcepts, a Madison, WI-based Web marketing agency that offers search optimization services.
This article first appeared in the September 2002 issue of Unlimited magazine.
Comments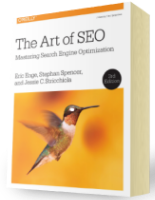 Chapter 7:
Content Marketing
From the fundamentals of link building to the nuances of natural linking patterns, virality, and authority.
Get Free Chapter