Competitive analysis critical to SEO success
Understanding your competitors — their strategy, their tactics, their level of success, etc. — is crucial to the success of your SEO initiatives. I'm not just talking about your traditional competitors, I'm referring to the other sites occupying spots in the SERPs (search engine results pages) for keywords that you are targeting.
Many free competitive analysis tools are out there, but you have to know where to look for them. One of my favorite SEO blogs (Stuntdubl) offers a veritable Home Depot of such tools, at Mr. Ploppy's Monday Tool List.
It's a bit like walking into a DIY store and being faced with an overwhelming array of options. What is the right tool for the job?
Here's a sampling of some of the SEO tools that I use for competitive analysis and what I specifically use them for:
Comments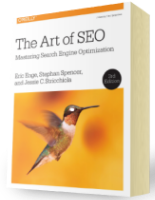 Chapter 7:
Content Marketing
From the fundamentals of link building to the nuances of natural linking patterns, virality, and authority.
Get Free Chapter