This Publishing Giant Does SEO Differently with Dan Gaul
Digital publishing is a tough business. But one brand that's thriving is Digital Trends, the largest independent tech publisher in the US. Based in Portland, Oregon, the site receives over 30 million visitors a month. Digital Trends has also grown to include a popular Spanish language version of the site and a men's lifestyle brand, The Manual. What sets Digital Trends apart from the competition is the unique approach of co-founders Dan Gaul and Ian Bell to content, revenue, and cultivating their audience. On this episode number 188, Digital Trends co-founder and CTO Dan Gaul is joining me to discuss the rise of Digital Trends and some of the secrets to their success, and how these secrets can be applied to you and your business. Stay tuned for some of Dan's insightful views on content, SEO, recruitment and much more.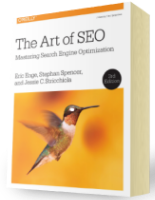 Chapter 7:
Content Marketing
From the fundamentals of link building to the nuances of natural linking patterns, virality, and authority.
Get Free Chapter