Link Building in an AI-Driven World with Gareth Simpson
"Focusing on individual tactics is to get stuck on tunnel vision; focus on a more holistic and intelligent approach and look at the 40,000-foot view." These are wise words spoken by Gareth Simpson, my guest on today's show. Gareth founded Seeker Digital—a link outreach agency for e-commerce, enterprise and SaaS brands. Within their first five years, Seeker experienced over 1600% growth, which is mind-blowing by anyone's standards! Gareth has been an SEO and link building expert, recently doubling down on AI for his clients. In this episode, we talk about the future of Google search, the current AI situation, and the mistrust people have around its potential negative implications. We discuss the bias of AI, which, of course, correlates to the dataset it's using as training data. Since AI is in its infancy or pre-teen years, we're all responsible for molding and shaping its capabilities. So, it is an amazing time in tech and marketing, and in a broader sense, for society at large. This episode is chock full of real-world SEO experience and insight into the future of AI, with a wide-lens view that helps bring this pivotal moment in human history into focus. So, without any further ado, on with the show!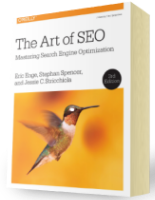 Chapter 7:
Content Marketing
From the fundamentals of link building to the nuances of natural linking patterns, virality, and authority.
Get Free Chapter