His Marketing Will Give You Goosebumps with Blair Gorman
Have you ever had a numerology reading? Are you superstitious about numbers? My guest is Blair Gorman, the Founder of Numerologist.com, one of the most popular and successful numerology sites on the web. You may be wondering what numerology has to do with marketing? Whether you swear by your destiny number or not, you can definitely learn some amazing lessons about digital marketing from this show. That's because Numerologist.com is a powerful innovator in online marketing and has been for years. They are so innovative that at one time Google used them as a case study. Blair is often miles ahead of his competitors when it comes to embracing cutting-edge techniques. He'll be talking about interactive Video Sales Letters or VSLs, augmented reality, virtual reality, social media, how to write killer copy and most importantly, how to incorporate it all into a marketing strategy that generates impressive growth. Number 185, which is this episode's number, in numerology is all about professional success, material abundance, and new beginnings. Keep tuned in because this episode might be your lucky number.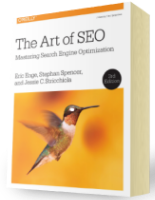 Chapter 7:
Content Marketing
From the fundamentals of link building to the nuances of natural linking patterns, virality, and authority.
Get Free Chapter