A new twist on "character blogs"
You may already be familiar with the concept of character blogging, where the blog is actually a fictitious charcter, such as a cartoon character from a cereal box, or a doll perhaps.
I think an interesting twist to this concept would be to have an historical character blogging from the past, as if it were the present day. I think American Girl, with their dolls from various historical periods would make for excellent character bloggers.
As a step in that direction, American Girl has recently launched a Felicity Blog. Felicity is a doll set in the time of the American Revolution. I think it would be a great idea for Felicity and the other dolls to be speaking to girls from the past.
American Girl is done a little bit differently though than a character blog. One of their editors poses questions Felicity faces, and also deals with themes/issues that are relevant to girls today, and asks girls to say what they think Felicity should do.
This Felicity blog doesn't really give the impression of a character blog, but it is certainly very successful in soliciting comments from readers, with over 250 comments for their first blog post. That is really impressive!
Maybe there are some lessons here to be learned for business bloggers in how to engage with their community of consumers as successfully as American Girl seems to do.
(DISCLOSURE: American Girl is a client of ours.)
Comments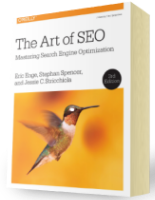 Chapter 7:
Content Marketing
From the fundamentals of link building to the nuances of natural linking patterns, virality, and authority.
Get Free Chapter